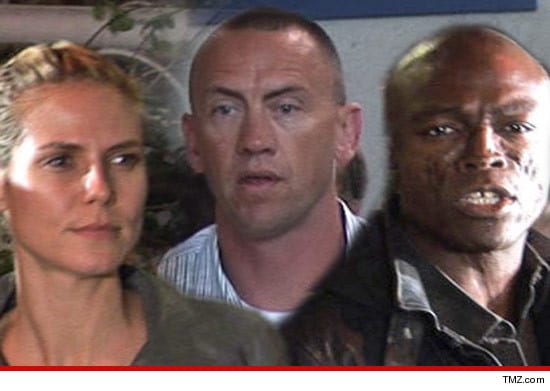 Heidi Klum tells Katie Couric she never looked at another man whilst married to Seal.
Heidi Klum bodyguard and Seal have dramatic stare down.
Heidi Klum had been fornicating with bodyguard for months says Seal privately.
Heidi Klum: 'Seal is after me cause he wants my money!''
Seal does an about face: Says he never 'implied' that Heidi Klum cheated with the bodyguard..
Source: Heidi Klum trusts and loves her bodyguard. Surprised by Seal's accusations.
Hmm, looks like things are getting dicey between Heidi Klum and Seal as Seal goes to the wire to publicly disclose in his opinion, his soon to be ex wife, Heidi was for a lack of polite language banging the hired help whilst they were still together. Interesting.
The assertion comes after photos of Heidi and her new lothario (Martin Kristen) pining together began to make the rounds earlier this week causing some to wonder out aloud was this just Heidi's way of getting back at Seal for dating some bixch young model or did he just happen to be there to catch the falling pieces once the relationship unfolded?
Heidi for her part is not particularly impressed with Seal, insisting that her relations with the bodyguard whilst she was with the singer were 'strictly professional.'
Add Heidi's friends: "It's sad but not surprising that he would resort to making excuses for their divorce when the real reason is looking him in the mirror."
Ouch bixch, that got to hurt. Round three ought to be coming at you soon enough…So who's telling the truth?
via tmz