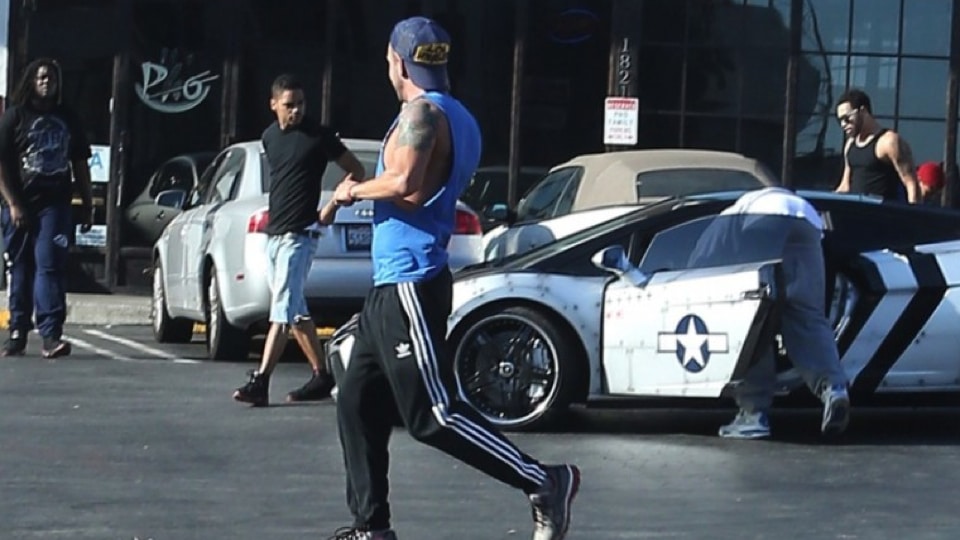 If only the universe sent a lightning bolt aimed squarely at Chris Brown…
It seems Chris Brown has once again found himself in the hot seat for bad behavior, this after a report that he and a few of his goon friends decided to terrorize an elderly woman at a local subway store all because she insisted on charging one of the posse for the extra meat on their sandwich.
wwtdd: The man in the blue shirt (pictured) was eating at Subway when Chris' posse started harassing an elderly lady who was working at the restaurant because they didn't want to pay for extra meat.
When another elderly man tried to stand up for her, they turned on him before the mystery man stood up to them.
They got the man outside and were taunting him with racial slurs before Chris pulls up in his Lamborghini. Chris' bodyguard pulls out a stun gun and chases the man around the parking lot before the cops showed up and broke up the scene.
Yes Chris Brown you are a very brave man and hopefully you taught the old woman a lesson: 'Nobody ever fucks with a badass like you, even old women…'
Chris Brown still outselling despite HMV 'women beater' advisory warning.
Chris Brown gets a neck tattoo of a brutally beaten woman. Denies it's of Rihanna. Does it even matter?