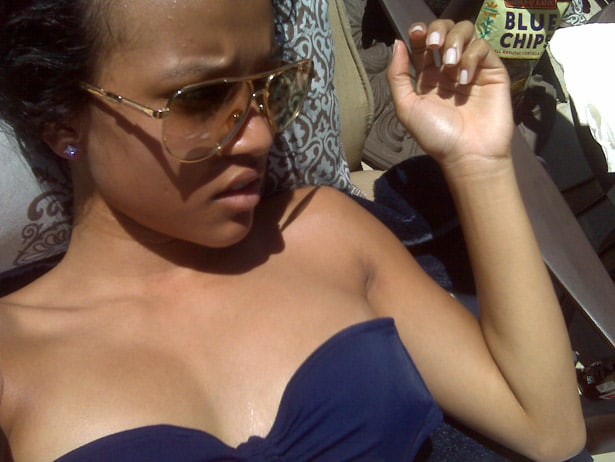 Oh really! Here's Rihanna nude as she changes her bikini.
Karrueche Tran, Chris Brown's ex(pendable) girlfriend isn't too pleased with her former beau, even if he dumped her ass and called it a day to fully return to 'watering the flowers' with Rihanna.
hollywoodlife: It seemed that things were off between Rihanna and Chris Brown when she tweeted about being single last week, but the star-crossed lovers shocked everyone by going to the Lakers game together on Christmas Day. And they SLEPT together that night! And as expected, Karrueche Tran is not happy! While she tried to take the high road, she failed miserably, and she may have called out the reunited love birds on Twitter.
And the thinly veiled 'fxck you' message to Chris Brown goes something like this:
"wishing death upon someone is some weak s**t."
Which is really Tran's desperate way of saying if she could get away with pushing her ex off a cliff she wouldn't hesitate. But of course Tran is also a seasoned media whore (everyone always becomes a seasoned media whore when they spend time dipping their tonsils on his highness' good stuff…) and so she knew how to mask her disappointment but at the same time hint at her contempt and disgust for the former love interest who is flaunting it and bruising our precious Karrauche Tran's ego.
Not to fear Karrauche, I know love sucks and can be very painful but I'm willing to bet that you'll soon find your tail being chased by the next up and coming hawt bixch that this time may want to commit, assuming you don't send them too many passive aggressive signals either…
Chris Brown dumps Karrueche Tran so he can resume his 'friendship' with Rihanna.
Rihanna targets Karrueche Tran with racial slur