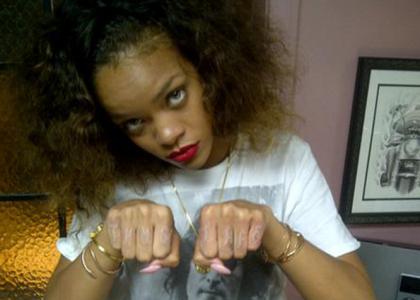 Rihanna has done it again – only one week after attacking a fan for her looks on Twitter, Rihanna has now unleashed a racist attack on Chris Brown's current girlfriend, Karrueche Tran.
On Friday evening Rihanna tweeted the words "ima make u my bitch" followed by an image of a package of Rice Cakes dressed in sunglasses and earrings – the same look that Brown's girlfriend Karruecehe Tran was seen wearing. It's also good to point out that in the new remix of "Birthday Cake" which features Chris Brown, Rihanna says she's "sweeter than a rice cake."
Rihanna is seriously that girl you see out on the street who will fight and harass the woman that her man cheated on her with, rather than going after the dude. All she ever tweets about is "cunt this," "dick that," "pussy this," "haterz that" I mean seriously? You're hating on/shading on the girlfriend of the dude that beat you up three years ago, who you claim to be "just friends" with.
Rihanna is your typical triflin' hoodrat on the street, the only difference is she somehow made it into the public eye. She is, in my opinion, beyond vile and well past due for another ass whoopin'.
Rihanna blows $24 000 just to fly in her hairstylist.
Rihanna bullies fan on Twitter, calls fan "ugly"
Chris Brown and Rihanna – skillful manipulators or just plain stupid?
Scumbag! Chris Brown accused of stealing girl's I-phone, could end up in jail.
Which bixch wants to tell you to F yourselves now that he has a Grammy?
Rihanna might be using you in her new TV fashion reality show. Bixch scores.
Rihanna tweets pictures of herself almost bare naked whilst working out.
Editor of Jackie Mag apologizes to Rihanna for calling her the ultimate 'niggabitch