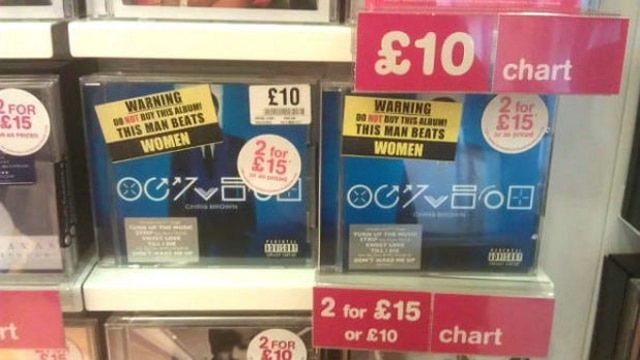 The Chris Brown spectacle continues unabated…
HMV stores in London have placed an "advisory label' on Chris Brown's latest album warning buyers not to buy the album because "this man beats women."
Despite efforts and an angry public, the artists fifth album 'Fortune" was still number one in the USA and UK. In addition to topping the charts Chris is still winning awards, selling out concerts and being always in the public eye. If everyone is so appalled by his behavior than why is he still at the top of the success ladder? And why is that, despite Rihanna's overlooking of the events, we are still ready at any moment to storm the castle with picks and torches?
If Chris Brown had been anyone else it is highly unlikely that the animosity would of continued and progressed for this long, however with the media continuing their relentless pursuit of the 'woman beater' its impossible for anyone to view him in any other light.
The media is competing with itself in finding the most dramatic story, and it seems like woman basher is the best therefore they continue to run with it, and we the reader are brainwashed into thinking that this man is so horribly evil that he should forever pay.
In society when a person commits a crime they pay their dues and that crime is expunged. Chris is completing 5 years of probation, counseling and community service, If you ask me I'd say the man paid more than just his dues, especially with every mary, dick and jane out to lynch him. Why have we changed the standards in Chris' case and when is this relentless pursuit of ruining his career going to end ? Not that shit is working anyway…