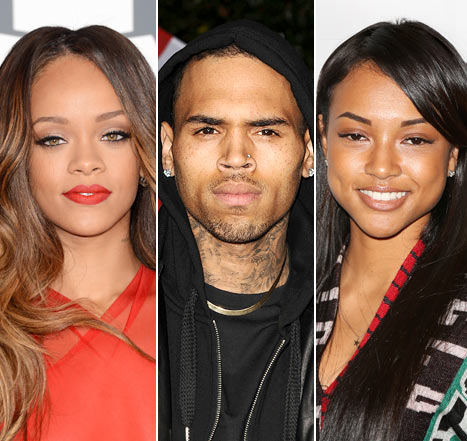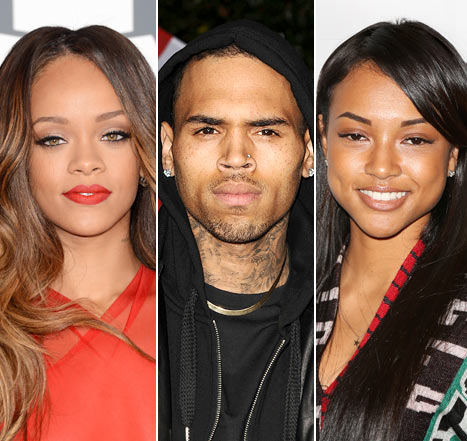 Karrueche Tran lambasts Chris Brown for sleeping with Rihanna on twitter.
Chris Brown dumps Karrueche Tran so he can resume his 'friendship' with Rihanna.
Rihanna targets Karrueche Tran with racial slur
It seems the merry go round called 'Chris Brown's love sick parade'has taken a new turn with reports that the troubled rap star is now in hot pursuit of his former flame Karrueche Tran after his public falling out with on and off again girlfriend Rihanna.
The newest revelation comes courtesy of hollywoodlife who tells how the singer is now trying to reignite the 'love thang' with Tran after initially dumping her ass for Rihanna who he got back with after she had a change of heart over her former flame. But that it seems is history and now Chris Brown according to sources is vigorously trying to see if Karrauche Tran will now take him back.
hollywoodlife: "He's been initiating contact with her, not the other way around," the source says about Chris and Karrueche. "I wouldn't say Karrueche and Chris are together but they are talking and kicking it."
On May 9, Chris and Kae were definitely kicking it, as eyewitnesses reported that they were all over each other while partying after he performed at Wild 94.9′s annual Wild Jam in the Bay Area in California. From what it sounds like, Chris is the one who invited Karrueche to attend in the first place! "She went up to the Bay with him and watched him do his thing and he was appreciative. For sure he was," the source adds.
Depending on whose take one believes it is thought that Karrueche Tran actually initiated a meeting with Brown after arriving in town whilst he and Rihanna were in the midst of a blow up. Once Rihanna found out (because Tran loves nothing better than reminding Rihanna whose heart Brown really belongs to) that the duo were once again speaking Rihanna turned around and had a public temper fit which only cemented the rift between her and Chris Brown. Not that Tran wasn't wiping off those tears of regret in the background.
It is also no secret that Rihanna and Tran have been having a public hate fest since Brown dumped Tran back in October last year to go back to Rihanna.
Tweeted Rihanna last on May 7th: "Settling is not an option! Nothing less than 100% loyalty, honesty, and respect!! Love ain't for kidz #butimsleeptho,"
Which elicited the following immediate response from Brown: "Sometimes loving someone is too much! So loving from a distance will help everyone grow! Be blessed. Live ya life!"
A friend close to Karrueche recently insisted she doesn't feel guilty about being with Chris again so soon after his break-up with Rihanna.
At present Rihanna has chosen not to comment on Chris Brown's latest romantic forays but fans are anxiously waiting, no doubt so is Karrueche Tran…
And then there was this comment on the web that made me wonder too….
Chris can continue to control karrueche like a puppet on a string. She has no choice but to do and say as he commands because she's not an independent woman. She depends on a man to take care of her. This control boost Chris ego and makes him feel powerful. Power is like a drug, very addicted. As you can see Rihanna does not need chris nor want chris. She gave the leftover to kae and the rest of groupies.
above image found here