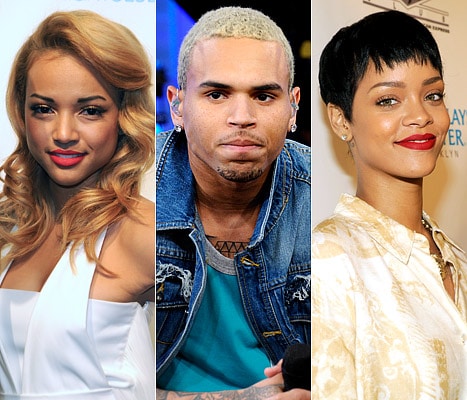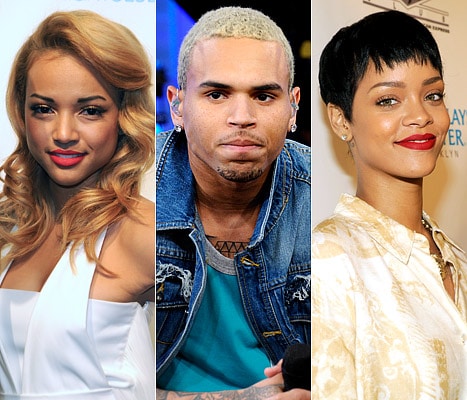 How not to so undiplomatically dump your girlfriend in public.
Chris Brown for those who haven't figured it out yet is a modern day lothario whose ever beating heart commands the love and attention of every jilted seductress on the beat. Hence the latest developments with of our collective hawt bixch Chris Brown who felt compelled to let Karrueche Tran understand through a press release that her love is no longer needed as he has gone back to being 'friends' (don't you love these  phony euphemisms?) with Rihanna who despite her own war wounds with the hawt bixch has once again (like us) found the rap star too irresistible from locking tongues and tonsils with. I know Karrueche I feel betrayed too…
page6: Chris Brown announced that he'd dumped his girlfriend Karrueche Tran to pursue his "friendship" with Rihanna after the pair hit up Jay-Z's concert Wednesday and then spent the night together partying at 40/40, Page Six can reveal. Brown and Rihanna were pictured sitting together, with his arm round her, in the VIP area of the Barclays Center in Brooklyn, one row behind Beyoncé. Brown and Rihanna later headed to Jay's 40/40 club in Flatiron to carry on the party. We're told they arrived separately but met up again inside a private VIP area. The move comes after the pair were spotted on two consecutive nights canoodling in Manhattan clubs. On Monday, they locked themselves in the bathroom at Griffin, and on Tuesday put on a public show of affection at 1Oak.
Karrueche if you are reading this this is your cue to look for a new size fits all wig to hide yourself under as your hero Chris Brown has officially thrown you in the gutter. But as you can see from the text above, it's just a friendship so maybe it doesn't really mean the world is forever over but then again you may be forever over.
Brown said yesterday in a statement: "I have decided to be single to focus on my career. I love Karrueche very much, but I don't want to see her hurt over my friendship with Rihanna. I'd rather be single allowing us to both be happy in our lives." 
Single, focus on being happy and no longer bothered by your temperamental ass? Karrueche this good by love note has the smell of a winner written all over it.
But just in case you're confused Karrueche about how Chris really feels about you here's a tender fuck you love song (below) that Chris has penned that you can listen to when you're wandering the streets all by yourself….
"The Real Chris Brown" from David Alan on Vimeo.
And this shit below is the home run lyric that had me choking on my Friday morning crack pipe:
"I'm not trying to be a player … I just care too much sometimes."

Isn't it time you found a boyfriend like Chris Brown who bangs his ex on the side whilst banging you and then eventually dumping you with a tender fuck you break up love song….?