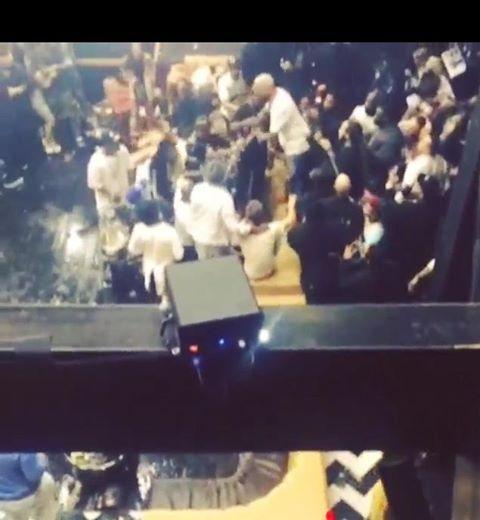 An unknown gunman is said to have attempted to assassinate rapper Chris Brown whilst he and fellow musicians held a pre VMA party at packed West Hollywood 1OAK nightclub. The shooting would lead rap mogul Death Row Records CEO Suge Knight seriously injured along with two others, one critically.

Megan Hawkins is the Chanel model who got shot in the butt at Chris Brown's pre VMA party 
The Chris Brown nightclub shooting which came to pass circa 1.30 am in the early hours of Sunday morning has left party organizers and Chris Brown entourage shell shocked as they now seek to try find the fellow party goer who had purportedly attempted to murder the rapper as up to four gunshots were fired inside the packed nightclub.

Whilst Chris Brown, 25 was thought to be unhurt, and at the time hosting a party in lieu of a new album release, three other victims – among them Death Row Records founder Marion 'Suge' Knight, 49, were reportedly taken to the city's Cedars Sinai hospital.
The UK's mirror reports at the time terrified revellers 'terrified' were told to "get down" by security.
Another video would shows Chris Brown making a swift exit from the club in his car as someone asks him: "What happened, man?" The star, along with guests including Justin Bieber, are yet to comment on the incident.
That said the UK's dailymail would report the rapper who is still on parole in the moments after the shots were fired was seen climbing onto what appeared to be a bar in the nightclub, apparently angrily remonstrating with other clubgoers as a bouncer told partygoers to 'Get down'.
TMZ would also report that Suge Knight would come to be shot twice and subsequently taken to the hospital by ambulance where he was rushed into surgery.

A source would reveal Suge Knight was shot in the stomach and arm and apparently in other places as well.

Noted party attendees included model and actor Tyson Beckford, and Black Eyed Peas member Apple de Ap, Justin Bieber.

'Literally can't believe what I just witnessed,' one attendee, Katie Clendon, tweeted after she was seemingly inside the club. 'Someone tried to fire shots at Chris Brown at 1oak. Speechless.'

TMZ reports the evening started with tension.  An hour-and-a-half before the shots, Game came to the club and he and his buddies got into an altercation with security guards … there was a full-on fight.  Game tried to get in was denied and left, but his buddies stayed behind.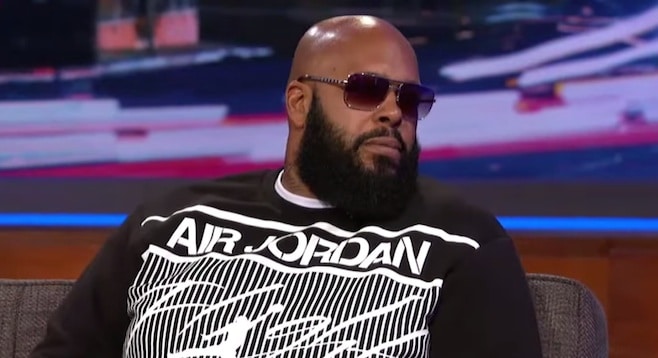 At present it is not understood who may have sought to kill the r & b singer Chris Brown or what the motive may have necessarily been. That said some have come to wonder if Suge Knight may have been the intended victim all along?
Laist reports documentary filmmaker Nick Broomfield suggested that Knight (and the LAPD) helped plan the murders of Tupac Shakur and Biggie Smalls. Years ago, Daly asked Knight if he was worried about being killed, 'I never got nervous. One of the things, you gotta realize one thing. One, if you have god in your life, you know your enemies and you know yourself. What you got to worry about? I don't have no enemies anymore.'
Last night's shooting of Suge Knight comes off the back of a 2005 incident which saw Knight shot during another pre-VMA party hosted by Kanye West. In that incident, he was struck in the leg when a shooter opened fire in the VIP room of the Shore Club hotel in Miami.

TMZ now reports that Knight was shot six times, according to his family. He is in the hospital's ICU and is expected to make a recovery.
A suspected gunman was apprehended by police after they searched the club and questioned partygoers, reports the Daily Mail.