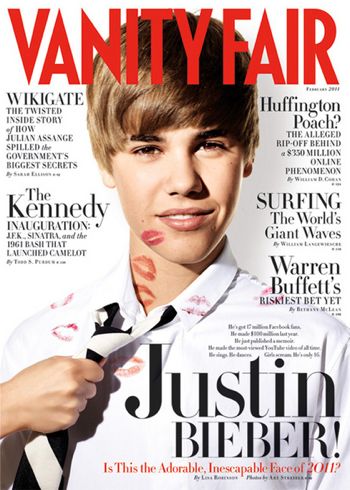 Is there hope for your teenage idol?
According to a report out of styleite today it seems teenage demigod Justin Bieber is lacking in one department- selling magazines. Apparently his February Vanity Fair cover is the magazine's worst selling issue in 12 years.
styleite: Let's do some math. The pop star's cover sold 246,000 covers, and the magazine sells an average of 342,000 issues each month. This means Bieber's cover sold about a third less than the monthly average. Ouch. Adding insult to injury, Bieber's October Teen Vogue issue sold 12% below the magazine's average, and an April People cover starring the 17-year-old sold 25% below the weekly's average.
Of course this has certain adults including this one wondering if the Biebs might be best suited to peddling what he's always been best suited to- the false aspirations of pebucent girls. Which might mean a JB action doll might do the trick, a JB apple application on how to look and smell like JB, or just simply a JB toilette roll on. Personally me thinks this hawt bitch is a natural when it comes to selling tabloid impressions (last time I checked that bitch Perez Hilton had a patent on JB's ass) and anything with the hint of a first time wet tampon. Oops- did I just say that?
A Vanity Fair spokeswoman quipped to Women's Wear Daily, "Who knew 12-year-olds didn't buy magazines?" Now that is an interesting thing to think about. First of all, we don't know many tweens who read VF (or many VF-loving adults who want to read about Bieber). But when we were 12, we were all about glossies like Seventeen. That said, a lot of teen magazines have since folded. Remember YM? Or Teen? Or CosmoGirl? Or Teen People? Or Elle Girl?
Which could only suggest that tweens have on a whole refused to read anymore or that they will read as long as there are lots of shiny pictures of our collective hero getting into a brawl or showing off a new $26 000 haircut. Fodder for the tabloids you know.
Anyway, I still love Biebs (when did I never stop lovin' the bitch…), and as soon as I have stopped watching the below video for the 78th time this morning I might actually make an effort to actually read Vanity Fair. Assuming they have an article on the hawt bitch of course…
THE BURDEN OF BEING A HERO. JUSTIN BIEBER GETS ATTACKED OUTSIDE OF MACY'S (VIDEO)
AND THEY CALLED THIS SH*T PUPPY LOVE. JUSTIN AND SELENA BARE ALL.
SELENA GOMEZ- PUNCHED IN THE FACE OR DRENCH KISSED BY JUSTIN BIEBER?
JUSTIN BIEBER GETS A NEW HAIRCUT. THE END OF AN ERA?
WOULD YOU STILL SWOON FOR JUSTIN BIEBER IF HE WENT BALD?
YOUR HERO JUSTIN BIEBER'S TWICE A MONTH HAIRCUTS COST $750 EACH.
Isn't it time you spent $175 to have a haircut like Justin Bieber's?
GRAMMY UPDATE: BIEBER WEARS SEMEN-COLORED SUIT, GAGA ARRIVES IN AN EGG
JUST IN CASE YOU WERE WONDERING THERE IS NOW ONE MORE JUSTIN BIEBER LOOK ALIKE.
JUSTIN BIEBER'S- LOOK ALIKE -JAMIE LAOU IS NOW NEARLY AS FAMOUS AS JUSTIN.
JUSIN BIEBER POSES WITH HIS SHIRT OFF.
Justin Bieber: Living the Wet Dream.
JUSTIN BIEBER ALLEGEDLY DATING TWO OF DISNEY'S MOST ELIGIBLE OLDER WOMEN
JUSTIN BIEBER UNDER INVESTIGATION FOR ASSAULTING A 12-YEAR-OLD
DOES JUSTIN BIEBER REALLY HAVE 'RACKS OF TWITTER SERVERS DEDICATED TO HIM?'