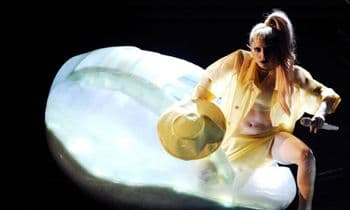 Pull out your oxygen tank, because in her never-ending quest to fulfill your furious thirst for celebrity spectacle, Lady Gaga arrived last night at the Grammy Awards in an egg  hoisted by four muscular male models in man-bikinis and directed by Anne Vyalitsyna, Maroon 5 Singer Adam Levine's girlfriend.
The entrance, which has  already been hash tagged as "#eggstraordinary" was announced on Twitter shortly before the show by one of Gaga's many minions who stated, "This is Nicola, Haus of Gaga: Gaga is in incubation. Tonight's performance is in collaboration with Hussein Chalayan and House of Mugler. X"X" As you can imagine, the Twitterverse was almost immediately in 'eggstasy.'
Then the big moment. Said one of her carriers to Ryan Seacrest upon arrival at the event: "Lady Gaga is in creative embryonic stage and won't be born until this evening."
The egg, it is being reported, was a complete oxygen tank to make sure everyone's favorite lady didn't suffocate. (One would be surely hard pressed to imagine a more egregious national tragedy.)
While the performance is certainly tiring cryptic, when we consider Justin Bieber's semen-colored velvet suit doesn't it all start to make a little too much sense? Ask yourself this, if you're not sold on the connection just yet: what could be a more fitting and creative concept for the world's two biggest stars at America's most masturbatory cultural event?
source: guardian
LADY GAGA THIS SPRING WOULD LIKE YOU TO SMELL LIKE BLOOD AND SEMEN.