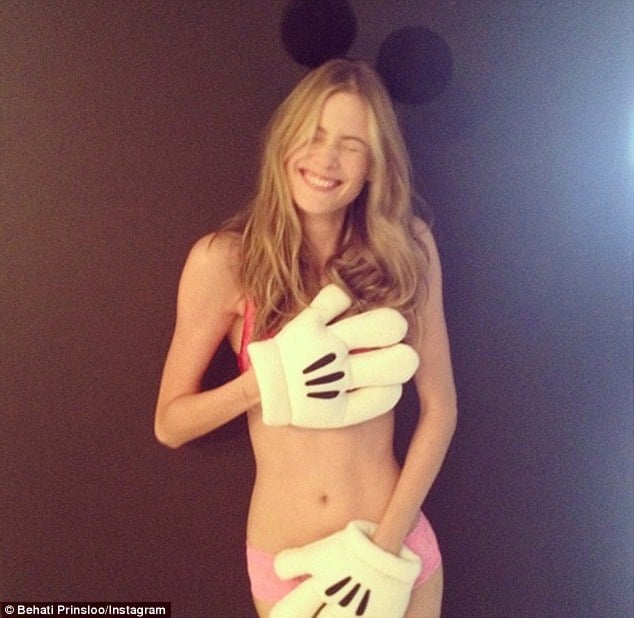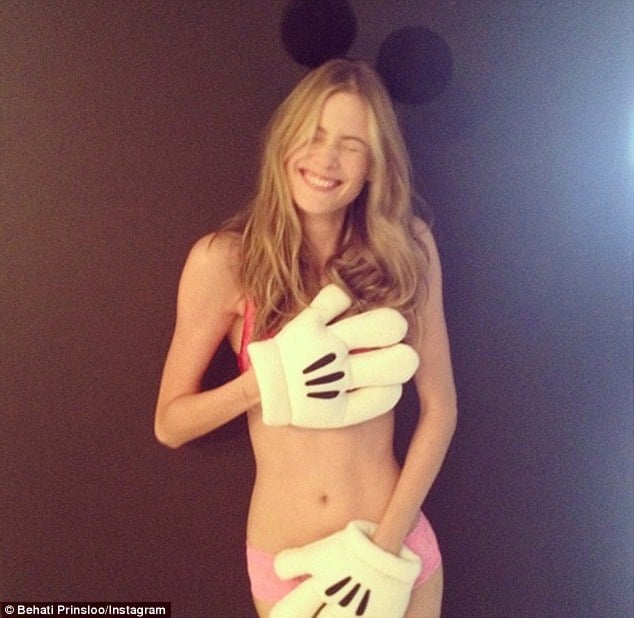 Adam Levine would like to introduce his new girlfriend.
How Adam Levine's new girlfriend, Behati Prinsloo keeps so svelte.
And how will I function now that Adam Levine and his super hawt bixch Anne V have split?
In an interesting about face, Adam Levine has announced that he is set to marry Namibian top model Behati Prinsloo. The announcement comes after the two are said to have broken up earlier this year after Adam Levine had a sudden clarity of thought and realized that he still wanted to date around.
At the time, Adam Levine quickly moved on to Sports Illustrated model Nina Agdal, whilst Behati Prinsloo kept out of the limelight, presumable to lick her wounds and take on more work assignments.
In fact what makes the recent engagement of the pair, over the weekend in Los Angeles was the fact that Adam Levine was not too long ago seen on holiday with Nina Agdal. Of course one wonders how that holiday actually turned out given the fact that Levine went running back in the arms of his former flame, Prinsloo.
Levine, said to be a serial model dater and womanizer (an assertion the singer takes great pains to deny) met Prinsloo a month after previous long term girlfriend, supermodel Anne Vyalitsyna (Anne V) dumped his ass from New York City whilst he was camped in Los Angeles. At the time Anne V declined to disclose why she decided to blow Levine off, whilst Levine went on to acknowledge he was floored by Anne V's decision to break things off. Which in and of itself might offer some clues as to why Anne V decided to move on with their two year relationship.
Adam Levine's engagement to Prinsloo caps off an illustrious dating career which has included the likes of pop star Jessica Simpson, tennis player Maria Sharapova, German model Janine Habeck, and VS model Angela Bellotte.
Addressing concerns that he is a serial dater he went on to interestingly tell the following:
'There's two kinds of men: There are men who are f***ing misogynist pigs, and then there are men who just really love women, who think they're the most amazing people in the world. And that's me.
'Maybe the reason I was promiscuous, and wanted to sleep with a lot of them, is that I love them so much.'
Kids, forgive me for asking, but isn't that the very definition of an oxymoron. Or to be blunt? A player?
Then there Adam Levine's response to the idea of marriage as well that might make some of you wonder as well:
'I'm a fan of marriage. People think that I keep pooh-poohing marriage, but I love it. I want to probably be married at some point.'
'I don't feel pressure to get married. I think that when it's time, it's going to be obvious and I'm going to do it and I'm going to really enjoy it.'
What do you think kids? Did Adam Levine suddenly had a change of heart and realized that he's mortal after all and can only womanize for so long before he accedes to his heart? Let's hope Prinsloo can keep her man in line, after all Anne V had her work cut out for her before relenting on the super hawt bixch otherwise known as Adam Levine…