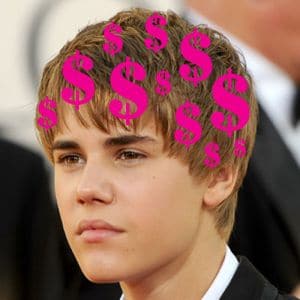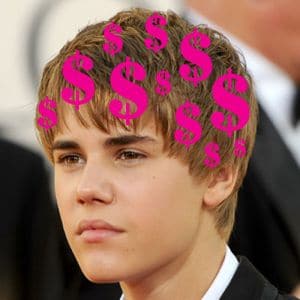 Shouldn't you try to look just as good too?
Contrary to popular perceptions men do care very much about their looks, and that of course includes uber boy toy (budding man- we trust he will arrive at manhood soon) Justin Bieber who if one does the math- spends over $20 000 a year ($750 x12) to make sure you sufficiently value his looks, his music (which raises the question- do we really even care about the Bieber's music or his cultural iconic status as a juicy boy toy) and of course his aggressively skyrocketing material wealth (which reminds us- you've got to spend money to make more money honey).
styleite : Justin Bieber's signature 'do costs him $750 every two weeks. This means he spends nearly $20,000 a year on haircuts alone, not to mention all the products and treatments and magical fairy dust that go into his legendary locks. Bieber's stylist Vanessa Price has this to say about his majestic mane: "I've heard adults joke they were going to take his hair after I cut it. I tell them they're really creepy. [Justin and I] were shocked people cared that much about someone's hair!" But people care! They care so much!
Kids is this an inside joke? Does the Bieber and his accomplait Vanessa Price really expect us to believe that they are shocked that people care so much about the Bieb's looks? After all it's even apparent to the chipmunks whistling in front of the youtube video below the only reason they still love Beibs is because they one day hope to look just as good as our hero and by osmosis be as equally loved by everyone scurrying up and down the treehouse next door.
Shouldn't you ask for an increase in your allowance kids? You'd be the envy of our chipmunks.
JUSTIN BIEBER'S- LOOK ALIKE -JAMIE LAOU IS NOW NEARLY AS FAMOUS AS JUSTIN.
Isn't it time you spent $175 to have a haircut like Justin Bieber's?

Justin Bieber: Living the Wet Dream.
JUSTIN BIEBER ALLEGEDLY DATING TWO OF DISNEY'S MOST ELIGIBLE OLDER WOMEN
JUSTIN BIEBER UNDER INVESTIGATION FOR ASSAULTING A 12-YEAR-OLD
DOES JUSTIN BIEBER REALLY HAVE 'RACKS OF TWITTER SERVERS DEDICATED TO HIM?'