It's time to take a fistful of popcorn and watch the following romantic getaway unfold…
dailymailco.uk: He's just 17 years old, but as a world-famous pop star Justin Bieber has seen more of the world than men twice his age.
Perhaps that explains why the teen has already visited the tattoo parlour, not once but twice, as he revealed on the beach in Maui this week.
And showing how much he has grown up, the baby faced singer enjoyed a romantic time with girlfriend Selena Gomez.
How romantic you wonder? Take out some baby oil and gently slide off the recliner…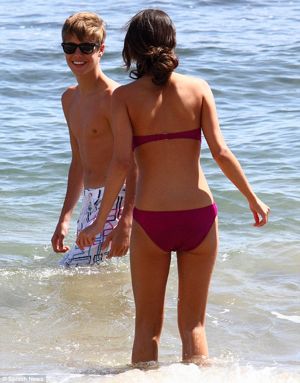 Sweeping Selena, 18, up in his arms, as she clung to his waist, he embraced her in full view of other beach-goers.
The pair then enjoyed a splashing contest, before showing their adventurous sides with a jetski ride.
Hmm. Jetski ride indeed…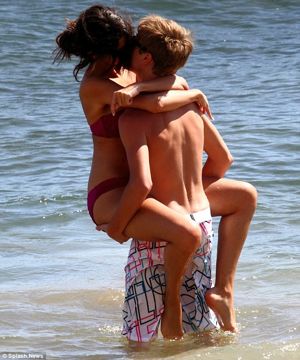 But love don't mean much unless you've got a couple of  'hawt' tattoos splattered on secret spot on your body…
One, on his stomach, is the outline of the seagull from Jonathan Livingston Seagull, a tattoo he had done to match his father and uncle and mark his 16th birthday.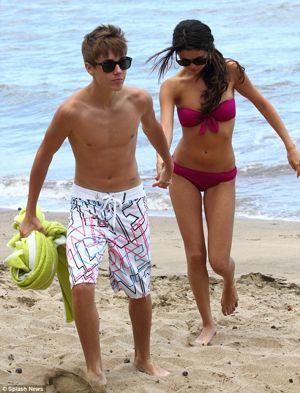 The other, on his torso, is in Hebrew. But just in case you think these kids are going all the way we have this:
But the holiday isn't all romance for the youngsters – both are accompanied by their parents, who were elsewhere as they enjoyed their trip to the beach.
Joined by their respective parents and a fully anticipating paparazzi to help legitimize it…
Shouldn't you hurry up and become a underage 'pop' star before it goes out of fashion?