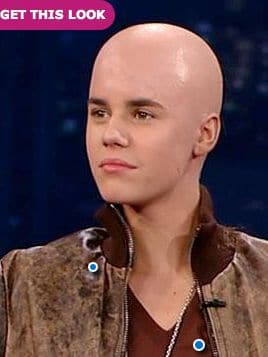 How much is that mop of hair worth?
In a sign that a boy's man's virility and relatively sexuality is worth the degree of lush hair head on his head, Jimmy Kimmel of ABC decided to find out if uber toy boy Justin would still be the death love affair of America if he were to go bald.
So let's find out, would you still have the hots for the Bieber if he suddenly went bald?
thehollywoodgossip.com: Would the girls still swoon over Justin Bieber without Justin Bieber's signature haircut? Jimmy Kimmel decided to find out last night on his ABC talk show.
When the host threw the idea out there, the star was surprisingly receptive. After they returned from a commercial break, the air fell out of the room.
Justin Bieber displayed a completely shaved, bald head:
Kids, I don't know about you, but I am quietly shaking just looking at this hunk. To be honest there's a kind of raw 'alien' sexuality about him that's got me looking for a spare wad of linen tissues if you know what I mean….
"I like it," Kimmel said, admiring his handiwork. "You look like a young Lex Luthor!" Bieber concurred after a moment, "I kind of like it, too."
One day, when Justin is asleep I will quickly run into his bedroom and tear out a lock of his hair and wistfully drool over it as it lies in my empty marmalade jar deflecting the morning dew.
JUSIN BIEBER POSES WITH HIS SHIRT OFF.
YOUR HERO JUSTIN BIEBER'S TWICE A MONTH HAIRCUTS COST $750 EACH.
JUSTIN BIEBER'S- LOOK ALIKE -JAMIE LAOU IS NOW NEARLY AS FAMOUS AS JUSTIN.
Isn't it time you spent $175 to have a haircut like Justin Bieber's?

Justin Bieber: Living the Wet Dream.
JUSTIN BIEBER ALLEGEDLY DATING TWO OF DISNEY'S MOST ELIGIBLE OLDER WOMEN
JUSTIN BIEBER UNDER INVESTIGATION FOR ASSAULTING A 12-YEAR-OLD
DOES JUSTIN BIEBER REALLY HAVE 'RACKS OF TWITTER SERVERS DEDICATED TO HIM?'