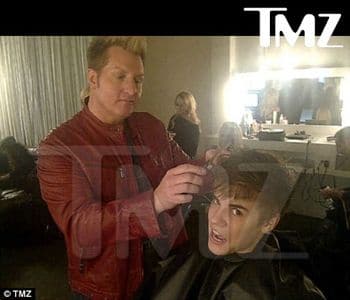 Justin Bieber donates his hair to charity, but Is the end of the 'Bieber Bob' the end of an era?
We are today at one of those rare turning points in popular culture — the kind of generation defining moment which profoundly and emotionally affects all of us that so tirelessly attend to the course of celebrity affairs: that's right, tweenage pop star Justin Bieber has finally cut his hair.
The Bieb-star first tested the waters early this morning, teasingly tweeting: 'Thinking about getting a haircut….hmmmmmm.' 
A ponderous thought indeed. But surely he couldn't go through with it, we all presumed, and risk waking us from his much prolonged American wet dream.
Then it happened; and of all places streaming live on TMZ TV (just like in all of our 'beautiful dark twisted fantasies'). Bieber emerged from under the scissors, unscathed but for a textured haircut he described as 'kind of mature.' A terrifying notion, no doubt (can you imagine a fully potent and road-ready Bieber?), but even this spectacle is far from over.
According whoever updates the Bieb's official Twitter account: "Yeah so it's true…i got a lil haircut…i like it…and we are giving all the hair cut to CHARITY to auction. Details coming soon."
And rest assured we'll be reporting on them. But like all our stories here, this one raises its own kind of deeper question.
Namely: Will you be the one who gets to pay (dearly we're sure) for the very considerable privilege of storing those luscious locks in a consecrated mason jar at the center of your personal altar? Or will they just displace Justin Timberlake's freeze dried half-eaten French toast or Scarlet Johannsson's used tissue from the Tonight Show as the showpiece in your celebrity fetish collection?
After all, the locks likely hold the Bieber's essence, an indescribable power — just like in the story of Samson. Sure, you may think that's just snark, but take this for example: Already, at least according to one Tweeter, 80,000 have already unfollowed Bieber.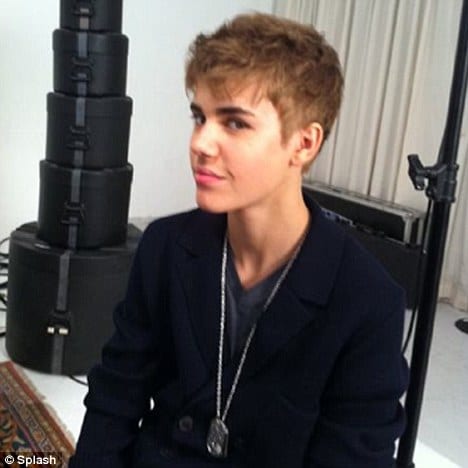 WOULD YOU STILL SWOON FOR JUSTIN BIEBER IF HE WENT BALD?
YOUR HERO JUSTIN BIEBER'S TWICE A MONTH HAIRCUTS COST $750 EACH.
Isn't it time you spent $175 to have a haircut like Justin Bieber's?