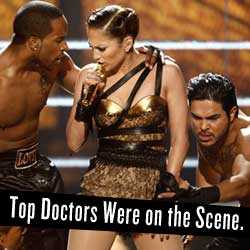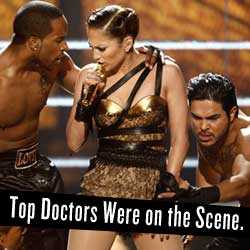 Slipping and sliding on stage. Fame in America.
It's not exactly newsworthy stuff that catches the eye of the Public but this is nothing new. Keeping that in mind, it seems the world over can't get enough of watching a diva Jennifer Lopez getting her knickers in a knot. (yummy! And ugh at the same time we think).
The idea that celebrities are just like us kind of makes sense, but if you happen to be a celebrity you know that's not quite the truth. Face it – you are better, sleeker, richer, date more hunks, and always look like you are 23 when you are 46. Yowza, momma!
You have to give kudos to Jen for trying to be both a trapeze artist and a legitimate singer. Who could blame the girl (a slow motion replay of the video link below should all give you the same type of buzz as yesterday morning's spilled coffee) for attempting the unnatural feat of being mercurial and leggy while nearly splitting her ass and head open.
Thank god for balance.