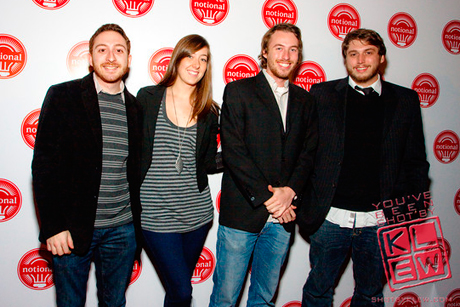 I have to admit at the outset I know nothing about cooking or for that matter very little about the reality show called 'Chopped' which has been making heads turn around town. Our photographer, Mr. Keith Lew, can never stop talking about the aspirations and emotional zeal of the show. Last night's celebration of Notional's debut (the production company borne out of collegehumor.com and intent on providing video content to both internet and television airwaves) in conjunction with the Food Network's third season celebration of the hit show "Chopped" at IAC was a very inspiring night, indeed (so inspired I too have decided to follow the adventures of aspirant chefs).
With the season finale due out this Tuesday, emotions were very high as a savvy crowd had come along to create a hit show that has captivated audiences, foodie and non gourmets alike. Spotted (by the lens of our camera) were the chef judges from the show, Alex G, Amanda Freitag, Aaron Sanchez, Geoffrey Zakarian. Also present was the host of the show Ted Allen (who I at least recognized from another hit show). Also invited were the following guests— Barry Diller (President & CEO, IAC), Ben Silverman (President & CEO, Electus), Ricky Van Veen (CEO, Notional & co-founder and former editor-in-chief of CollegeHumor), Dave Noll (President of Television, Notional), "Chopped" host Ted Allen, 30 Rock's Katrina Bowden, The Office's Ellie Kemper, Ugly Betty's Eric Mabius, chef/author Katie Lee, chef/author Dave Lieberman, chef Govind Armstrong (Table 8), chef Geoffrey Zakarian (Town, Country), Lauren Bush, Dan Abrams, Niche Media's Jason Binn, MTV's Gideon Yago, TV personalities Maria Menounos and Bobbie Thomas, comedians Nick Kroll, Chuck Nice, Josh Mulaney and CollegeHumor.com's president & co-founder Josh Abramson
With video montage on the wall and the palpable zeal of the audience, we were rather fortunate to have come along and bask in the current buzz. Of course, I have already come to understand I will never make it as an entrant on the show but at least I got to celebrate with a wonderful milieu of guests.
Also a very special thanks of gratitude to the catering company – TASTE- so delicious and hospitable. Aioli gambas? Yes please!
More Notional and IAC photos at KeithLew.com