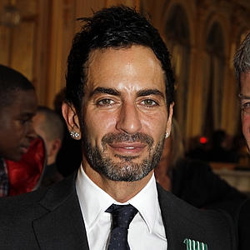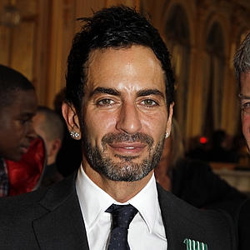 Telling the shiny monsters to get out of the way.
As fashion week kicks off today, one of America's preeminent designers-Marc Jacobs has decided that he doesn't really like celebrities after all and that their presence is persons non grata. Stunt? Wishful thinking or just a decoy to nab Lindsay Lohan front row?
As quoted from the NY Post, the trailer park of celebrity riff raf:
Marc Jacobs' fashion show is always the hottest ticket in town — but Jacobs doesn't want it that way this year. "I'm not into the celebrity thing . . . like we used to," he tells Style.com. "That's boring . . . We're not going to have celebrities. Last season, we had two celebrities . . . one because Lady Gaga was doing our party, and she didn't even make it to her seat because we started the show be fore she got there. And one was Madonna. She came backstage, and I was like, 'What do you do with her now?' Because it's not like she was invited.
Is Marc having us on? Really who cares about fashion anymore when what's more interesting is the tinsel town behavior and the 'star lust' association of being 3 inches from a celebrities jabbering jawbone. After all isn't that what gets us (actually not us but you) excited? Isn't that the turn on factor?That the clothes will suddenly mean more because Paris Hilton farted secretly while she played with her cell phone as the models wafted past her and because she makes porn tapes on the side while climbing up the social ladder that we're told doesn't exist in America.
Of course Marc Jacobs is either lying to us or to himself because we all know no one really cares about creative vision and aesthetics anymore, after all we're reminded day in day out life in America is only worthwhile if you are a celebrity or somehow sitting 3 seats behind one. In any event Marc we wish you luck in your endeavors and in the event a celebrity like Madonna turns up next time to your show uninvited, do the decent thing and at least give them standing room only- America might suddenly love you then.