The business decisions you live to regret.
For a moment we all thought that UNGARO's decision to bring on media/crack whore Lindsay Lohan to the table as it's creative director was a brilliant ploy on strategy. Then of course after we finished chaffing and violently coughing we already knew back then it would turn out to be a disaster. Well the disaster is officially here, with the Madison Ave flagship store announcing that it is set to close its doors.
Comments the Awl:
A very nice voicemail left by a Madison Avenue Ungaro staffer for a customer yesterday, inviting the customer up to the store, broke the news.
"Unfortunately," the leaver of the voicemail said, "um, we're actually going to be closing our doors February 27th, so I wanted to invite you to our liquidation sale."
Mmmm, liquidation sale? How savory, how sexy and how wonderful that LILO caused the business to go down the tube.
"The collection was such a failure that we could not believe they kept her on," is how fashion publicist Kelly Cutrone put it.
So there you have it kids, first there was Liam Neeson from Barings (the rogue trader whom bought down the bank), and now you have Lilo who brought down a venerable fashion house.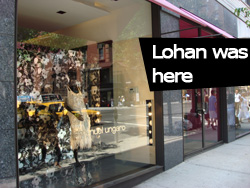 Related: Tired of being a Drug Addict Lindsay now wants to be a Fashion designer, Lindsay Lohan's comeback as a human being is perilously close to failing, Lilo Getting Fired at Fashion House Ungaro.
Source: The Awl