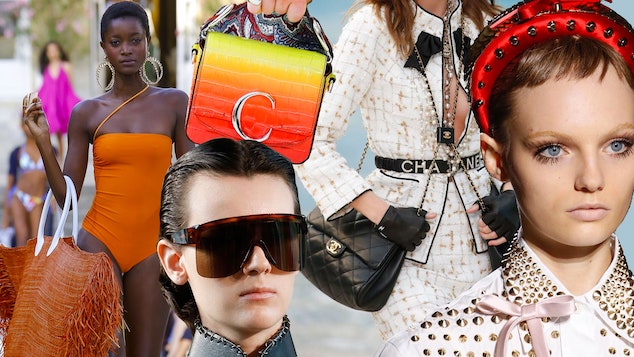 Matching accessories fashion outfits: Stylish fashion extras choices including handbags, jewelry, belts, hats and sunglasses explained.
Since ancient times accessories have been part of a human life: people wore bracelets, rings, necklaces, belts, scarfs, hats for ages. Nowadays, this trend's only ramped up with many clothes designers, famous brands and fashion icons actively incorporating accessories into casual outfits and glamorous styles.
Wearing accessories can help not only bring your best features but also amplify your personality, stand out from the crowd and express your style. But in order for that style to work, it's important to accessorize things right. Besides accessorizing, you can also find out about layering or mixing patterns by checking out Joyfully Styled. Here you will find the reason why adding accessories to an outfit is important alongside a few fashion guidelines on how to match these accessories properly. For more help, you can also ask professional stylist advice online. 
Handbags
It won't be an exaggeration to say that this accessory is a staple in a wardrobe. It can be seen on both men and women and worn in more ways than one. Just men don't usually wear a bag for aesthetic purposes, while women often buy bags for their looks and can change them as often as they change clothes. Handbags can be found in a vast variety of designs – like tiny purses, small clutches, handbags of all shapes, and roomy backs, and all of them can add an accent to your look.
Today, though, the fashion world is going crazy over micro bags. Ever since Jacquemus presented their mini leather tote in spring 2018, womens' bags have become only smaller, rarely being able to fit in more than one-two items, which only proves the point that bags aren't just about practicality but also about fashion and style.
Sunglasses
Sunglasses are another popular fashion accessory which many famous people wear to express their style. They can help draw attention to the beauty of the face, as well as masking its shortcomings. What's important here though is that these sunglasses not only look cute but also match the shape of your face, because if they don't, chances are high they may ruin your outfit rather than elevate it. The popular trend today is to wear glasses without dioptrics. Despite their seeming simplicity, they look very elegant and can add up more glam to your look. 
Hats
To create a new look, hats can be the way to go. There are lots of hat models available, so making the choice shouldn't be difficult. The main rule here is keep balance. For instance, if your outfit is rather busy and has many details or layering, then it's best to wear a simple hat. A more tailored look, on the other hand, will be best complemented with a cocktail hat that has some structure. And if you want to create a romantic style outfit, soft-shaped hats with a wide brim will do the trick. 
Belts
Long gone are the days when the belt choice was limited only to "classic" colours. Today, you can find belts to suit any taste and style. They can be worn on loose clothes to tighten things up, as well as being a piece of decoration to attract attention to different parts of the body. To create an interesting look, don't be afraid to try new things and experiment with colours. Sometimes even going to extremes, like, for example, wearing a bright pink waistline belt, can work a miracle and turn a dull dress into a gorgeous outfit. 
Jewellery
Matching accessories fashion items such as necklaces, bracelets, rings and watches, are often "the cherry on top" to a successful outfit. In fact, wearing the right accessories can trigger a real change in you and make you feel more confident. Wear brave new look bracelets, rings and watches to add an accent to plain colour outfits or just as a shining accessory, and be sure your outfit will not go unnoticed. Just make sure that you don't overdo and your accessories work well together.