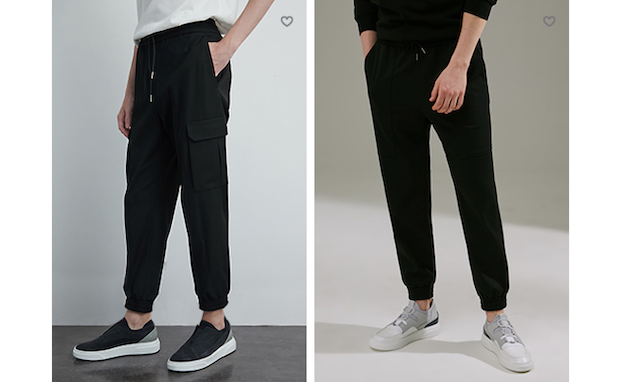 How to Wear Joggers: Athleisure, finding the perfect fit and balance between casual and smart in the latest merging of fashion trend wear. 
Before the emergence of classy streetwear, joggers, or sweatpants, were initially reserved for lazy days, sick days, weekends, or evenings at home after a whole day in khakis or denim. The preferred pair was likely a comfy yet oversized pair of joggers that would never see the light of day outside your front door. 
Now, thanks to the emergence of athleisure, sweats are no longer seen as sloppy. In fact, they have become an acceptable item of clothing to wear when out in public and not just to the running track or gym. 
Designers are now putting a lot more effort in sweatpants because their functionality has diversified. They can be used both to lounge and work out.  
That said, how you style your jogger pants is key to achieving a fashion-progressive look. Here are a few stylish and easy ways to wear joggers and look smart. 
1. Wear Your Jogger Pants With Tees
Joggers are meant to appear casual and laid back. A simple t-shirt will complement this style, creating an easy weekend outfit. This look will make you look amazingly comfortable. Just make sure your tee is well-fitting and keep the bottom of your joggers tight and above your ankles. 
To make your outfit urban edgy and street smart, you can try to wear your joggers with a cool printed shirt. This style will help you maintain a clean, cool aesthetic while creating a clean silhouette.  
2. Wear Them With Matching Sweatshirts
Pairing your joggers with a sweatshirt may be your usual outfit for lazing about in the house but it can also double up as a seriously stylish streetwear outfit. With athleisure rising in popularity, wearing a sweatsuit has never been more appropriate for everyday wear. 
To polish your outfit, wear stylish designer sneakers as footwear.  
3. Consider Hoodies For The Colder Days
A hoodie worn with jogger pants is an appropriate casual outfit. It can be ideal for simple errands such as getting coffee or relaxed occasions such as family barbecues. To pull off a bold street-inspired outfit, don't wear basic joggers or hoodies. 
This combination can prove highly convenient when it's cold outside. The hoodie will keep you warm and stylish at the same time. Try wearing multiple layers or stylish pieces to look both edgy and smart.  
4. What About Polo
Polo shirts, just like jogger pants, give off a sportswear vibe hence why the two items of clothing go so well together. To maintain a casual look, wear a light and soft polo but if you want a more polished look, wear joggers made from thick fabric.  
To add a touch of elegance to your look, you might want to consider going with a patterned polo shirt. The detail will make your polo the stand out feature of your outfit with the joggers as the supporting act of an incredible look. 
Athleisure at Its Best
Jogger pants are convenient for the ultimate street and off-duty looks. They are perhaps the most comfortable trousers worldwide. To successfully pull off an exciting look, consider the brightness of the outfit. If you're looking for flamboyance, bright colors would be ideal for you. 
The most important thing, however, is that you find the perfect fit and balance between casual and smart.