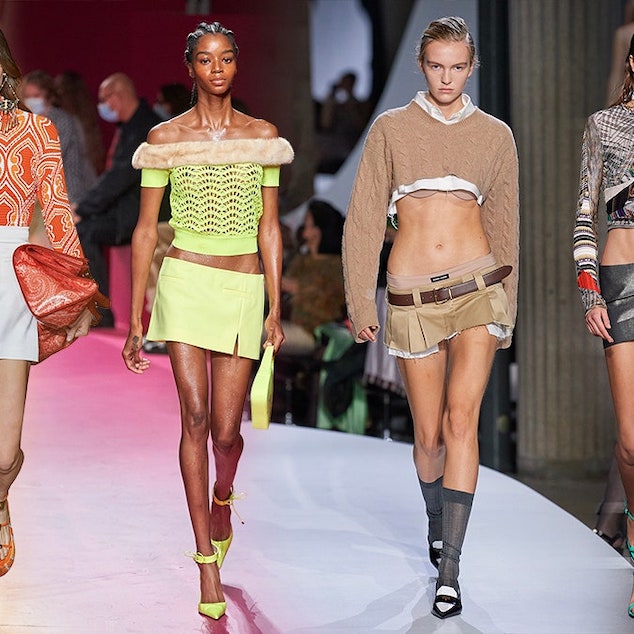 Fashion clothing trends for 2022 to look out for: vertical stripes, the mini skirt continues, Pantone's Peri comes alive, look out for the baggy & oversized and dress over pants. 
After years burdened with the Corona pandemic and hiding at home, we are all ready for the fashion trends of 2022. This New Year has plenty of fun trends for the next wave of revival. Attention-grabbing outfits with a playful mood, soft colours and sheers are taking over, along with bold colours and prints as well as bold silhouettes, voluminous blouses and ultra-low rises on pants and skirts.
Our company was founded on the commitment to sell only high-quality products that are authentic from the most famous brands in the world. While the prices of SIVVI are very competitive, Almowafir offers codes which can be used for fashion discounts to save you a lot of money. Let's find out what are the main trends of 2022.
The pattern of stripes (vertical)
Yes, vertical stripes are back, ladies and gentlemen: bright blue and fiery red mixed with white, or better yet, if you're daring enough, experiment with colours in a range of hues. Think colours that collide with rainbow glitter in a more prominent stripe for a fancy effect. Stripes have been a fashion staple for years, and while they can seem overwhelming, they can be fun if worn in a suitable combination.
Very-Peri
We have already seen it on television, at grand openings and on all the catwalks. It's a subtle lavender color somewhere between purple and a hazy blue. Significantly Peri marks the first time Pantone has created a new custom-made color for its Color of the Year program. According to its statement, Laurie Pressman, executive director of Pantone, said that this new hue represents ""the innovation and global transformation that is taking place" as well as" the vast possibilities that lie before us."
Oversize
It seems that a new silhouette has emerged, as light and casual as we want to be, and the equation is: a loose oversized button-down shirt, paired with large loose pants, buttoned calmly in the middle. "Oversize"" and "maxi"" are already among the most popular keywords when searching for dresses, and this trend will continue in the coming months. Baggy, flared clothing can be worn on a night out or even to work on a casual day and is a trend following the big mom-jean moment.
View this post on Instagram
Dress + pants
Despite the complicated past of this trend, which appeared in the year 2000 and that in hindsight does not seem so great, the truth is that we will see it once again in 2022. After seeing a handful of long tunics and pants appear in the 2021 collections, we have now realized that we will again see a cute dress over jeans, for example. If you're still not convinced, that that's fine… but you'll see her everywhere.
Mini skirts
The Mini Skirt trend will dominate in 2022. Sidelined by the calf-grazing lengths of the midi skirt for the past eight years, the mini is experiencing a resurgence across the board with its take on the '60s'60s fashion icon. Whether skintight, skater or pleated, the leather skirt is the sexiest option, perfect for playing rebel both day and night. If you are a fan of the seventies trend, you will opt for a flowing lace or velvet skirt, a very fashionable material this winter.
Blazers XL
Thanks to various silhouettes, colours and fabrics, the office staple are no longer confined to boardrooms: wearing blazers to the club or your favorite lunch spot is an equally strategic move. It's safe to say that you'll probably want to stock up on several styles for different occasions and outfits. Of course, look for the large and showy.