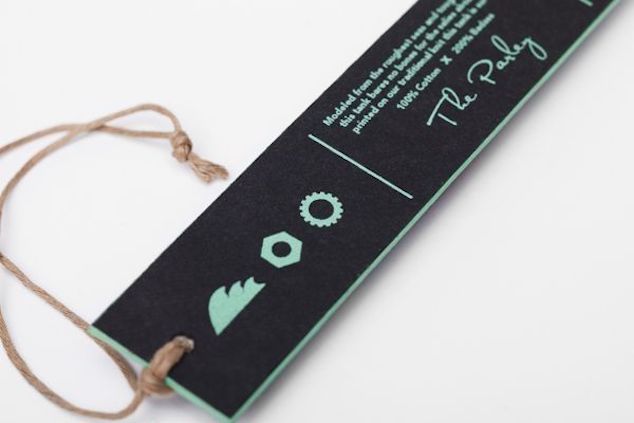 The Benefits of Apparel Hang Tags: Finishing services which draw attention to your merchandize & distinct branding expression and connecting with customers.
Apparel finishing services can make a big difference for merchandise. In general, these particular services include a variety of options from price tagging, poly bagging, barcoding, drop-shipping, and more.
A popular finishing service that many apparel companies utilize is custom hang tags. Custom hang tags may not seem like much, but they are actually a reflection of your brand and a useful tool that allows you to convey important information to your target audience. Thus, if you've been toying with the idea of adding hang tags to your apparel, but are still on the fence about it, we can help. Here's a brief overview of the many benefits of adding a hang tag to your merchandise.
What's a Hang Tag?
Though this is pretty self-explanatory, hang tags are affixed labels that align with one's brand and allow the companies/manufacturers a place to add important information. Typically, you notice that these tags are much thicker and more durable.
Brand Expression
A hang tag is an opportunity to draw attention to your brand. Most tags are custom designed and eye-catching, i.e., they can make your apparel stand out among the rest. Not only does this draw loyal customers to your brand, but it can also attract new ones. Thus, if you're looking for an efficient, yet simple way to express how unique and amazing your brand is, you should opt for hang tags. That said, if you need help designing your labels, then consider going to this screen printing outlet for expert assistance. 
A Way to Connect with Customers
Packaging and presentation matter a lot when you're selling clothes. Srmailing states that 72% of US consumers make purchase decisions based on product packaging design. With an attractive hang tag, you can make a great first impression and inspire brand loyalty. Think about it; a label that's creative enough won't be thrown away after the item is purchased. Many people like to keep these tags, and even use them as a showpiece every now and then. These tags will often have inspirational quotes and designs that really speak to a business' target audience, making them keepsakes for some as well.
Increase in Sales
Unsurprisingly, hang tags are also a great marketing tool. Not only do they draw people's attention to your brand, but you can add promotional codes, QR codes, and other pertinent items to your tags. With promotional codes, you can incentivize your customers to buy more of your product now or in the future. QR codes, on the other hand, will allow anyone to learn more about your company, brand, charity work, or whatever you want to convey.
Custom Options
Moreover, hang tags come in a variety of styles, shapes, finishes, and materials. You can personalize your labels and be able to add the necessary content with ease. The more common options include a durable DTF print matte finish, silk with stamped foil, uncoated stock, spot UV, gloss-laminated, velvet-laminated, and natural recycled material/stock—just to name a few. You can also choose between woven and printed labels. In fact, in many ways, the possibilities are endless with these tags.
Care Instructions
A high-quality product or article of clothing should always come with care instructions. But then, placing them on a scratchy tag inside your t-shirt or garment might not be the best option. In fact, most people rip or cut off tags sewn into clothing, which often causes damage to their new shirt or garment. Consequently, a hang tag is a great alternative that you can be sure your customers keep or at least read.
Important Information
In addition to care instructions, hang tags are ideal for addressing customer concerns. For instance, many consumers are curious about the fabric used, the ingredients in the dyes used, and even the manufacturing process. Therefore, you can use a hang tag/label to tell people that your product is 100 percent cotton, made from recycled materials, has natural or hypoallergenic dyes, and was hand-stitched in Italy.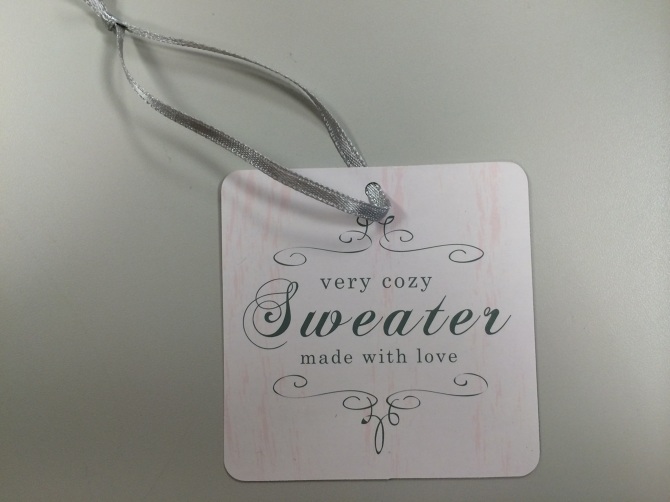 Marketing
As briefly mentioned, hang tags or labels are another way to market your brand and products. You can use hang tags to tell your customers more about your company, fun facts, promote a lifestyle, etc. If you're now considering the marketing potential that your labels and tags can have, it's definitely time to get to work.
Drawing Attention to Your Brand
Likewise, your brand can really stand out on a hang tag with the right design or logo. If you have a unique brand or are invested in a particular charity, city, etc., use your hang tags as an opportunity to draw attention to that. Even if you just want your apparel to be more noticeable on the rack or in the stacks, a custom hang tag can help.
How to Order
As you can see, numerous benefits come from utilizing hang tags and custom labels for your merchandise. Thus, if you're ready to get the ball rolling, there are a few things you need to consider so you can order them.
For starters, you need to decide on the type, style, and material of your hang tags. Next, you'll need to work with your screen printing company to get an idea of pricing, required quantity, and placement (figuring out where you want the tag on the garment). Other things, like custom designs, QR codes, tracking numbers, and estimated turnaround times, also need to be discussed. Once you're clear on these things, and you know what message you'd like to convey, then you can place your label order.
Final Note
Ultimately, hang tags are just one of the many apparel finishing services available. Therefore, if you want to capitalize on these particular kinds of services, you should work with a printer that offers tags and more. That said, if you have questions about labels, barcoding, poly bagging, or need an overview of all available finishing services, reach out to an expert team member at Thrive Screenprinting for further assistance.