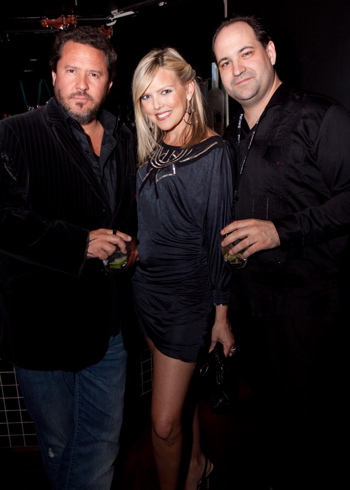 Photography by Aracelis Batista. Adrian Greiner.

GenArt, according to their twitter page, is "a national organization dedicated to showcasing emerging fashion designers, filmmakers, musicians and visual artists."  According to their festival's VP, Jeff Abramson, this organization targets a, "young, social crowd that lives very busy lives and doesn't really have time to figure out what they want to do." They are currently in the middle of their New York City film festival, which is screening seven shorts, seven feature films and hosting seven afterparties over the course of, surprise, seven days. What surprised me most about the festival employees and volunteers was not that they were smart or gorgeous but rather how nice and helpful they were to everyone: press, guests and filmmakers alike. Don't they know they're in the film world? In New York City, no less?
Saturday evening brought the New York City premiere of Adrian Grenier's sophomore documentary effort, 'Teenage Paparazzo.' Speaking from the red carpet, Grenier said, "I like to come out of a movie having learned something. And not just education, but also wisdom, on a spiritual level." This would have sounded like glib director's hype had the film not delivered on all counts. The audience did, in fact, walk out having learned something and not just about the stars of the film, but also about themselves. The film was in parts shocking, endearing, and always, always honest.
'Teenage Paprazzo' centers around a young teenage boy, Austin Visschedyk, who discovers the adrenaline rush of star stalking and the profit in selling the resulting photos. With his parents' reluctant support, Austin becomes a paparazzo who catches the attention of Adrian Grenier and, shortly thereafter, the rest of Hollywood.
The film is so full of celebrity cameos and interviews that the subject of the film is listed 25th on the imdb.com cast list. This is a movie that is fully embedded in Hollywood: anyone who is anyone on either side of the camera is there. Whoopi Goldberg, Lindsay Lohan and Steve Sands, one of the most infamous paparazzo in America, are a few of the figures who offer their insight into this strange world that so attracted, some would say ensnared, this sweet, toe-headed boy.
Austin, although central to the plot, also serves as a shooting off point to explore the world of celebrity and media at large. Through his unique perspective, which is one part sweetly naïve to three parts shockingly mature, he provides Grenier with crystal clear insight into a world normally obscured by camera flashes. As director, Adrian consulted experts on celebrity, human nature, media and the economy of Hollywood.
According to this film, the average American spends six hours a day devoting their full attention to some kind of screen, be it television, computer or phone. It has been a long time since a film evoked in me a