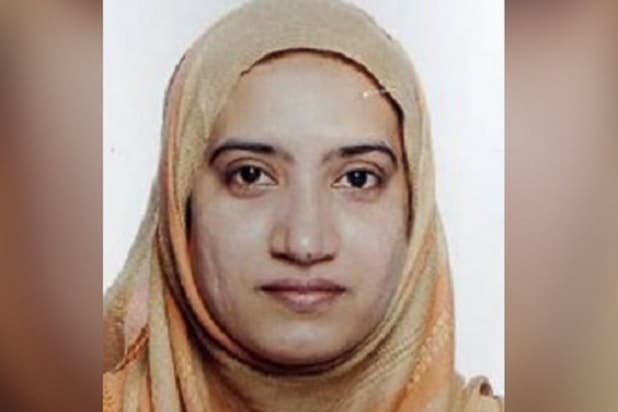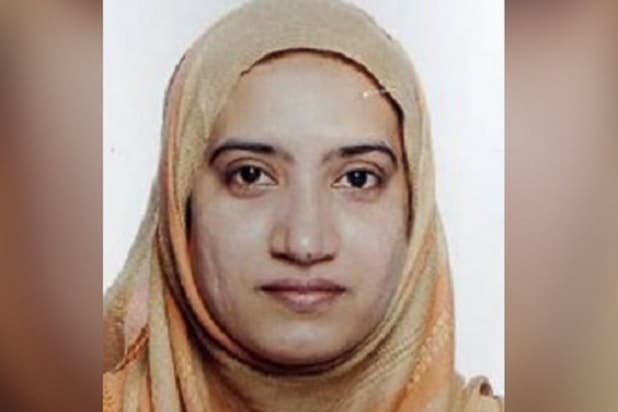 As the first official picture of San Bernardino shooter, Tashfeen Malik have begun to make the rounds, FBI authorities have announced that they are treating the San Bernardino shooting as a terrorist case.
Nevertheless the FBI also added in a disclaimer that no evidence existed which connected Malik and her husband Syed Rizwan Farook to Islamic extremist terrorist group ISIS or the pair operating on their behalf.
Speaking to a press corps, late Friday evening, the agency's director, James B. Comey said that the 'Bonnie and Clyde', husband and wife team were not part of a larger plot of members of a terror cell.
Nevertheless, the FBI chief noted 'the investigation so far has developed indications of radicalization by the killers, and of potential inspiration by foreign terrorist organizations.'
Prodded to cite specific evidence, the FBI chief only told: 'There's a number of pieces of evidence which has essentially pushed us off the cliff to say we are considering this an act of terrorism.'
Doyle Miller: Syed Rizwan Farook landlord arrested for allowing media inside home
Was Tashfeen Malik an ISIS agent? Did she radicalize Syed Farook?
'Just lies,' Syed Rizwan Farook family call FBI investigation a sham.
Syed Rizwan Farook secret double life: 5000 bullet stockpile, dozen pipe bombs.
Nicholas Thalasinos gunned down by Syed Rizwan Farook cause he was Jewish

Cops: 'Syed Rizwan Farook planned attack with radical Muslim terrorists'
Muslim newlyweds massacre co workers who threw them baby shower
In new developments, the family of Syed Rizwan Farook told on Friday, so devout was their son's wife in observance of strict Islamic lore, they never even saw her face.
Speaking through family attorneys, at a press conference, Mohammad Abuershaid and Daniel Chesley said that Malik, who hailed from Pakistan always wore a burka, refused to show her face along with refusing to speak to male relatives.
The lawyers said the couple met through a marriage and dating website some time in 2013 and wed the following year.
Abuershaid said the couple were very 'traditional' and that family members saw Malik as a 'very private', soft-spoken and caring housewife. He added that Malik spoke broken English.
Adding: 'They were very traditional. When family would come over, the women would sit with the women and the men would sit with the men, so the men had never spoken to her,'
 '[Malik] wore a burka so she was never seen by the men.'
He said that very little is known about Malik and her family, who are believed to be in Saudi Arabia. 
'She was a very, very private person. she kept herself isolated and she was very conservative,' Chelsey added. 'Because everyone knows so little, she's easy to pin things to.'
Malik studied to be a pharmacist in Pakistan, but did not work in the field in the United States, where she instead lived as a housewife in a home with Farook, their six-month-old baby and Farook's mother.
The attorney added that Farook's mother lived in the upstairs area of the home and did not have knowledge of the planned attack on Wednesday.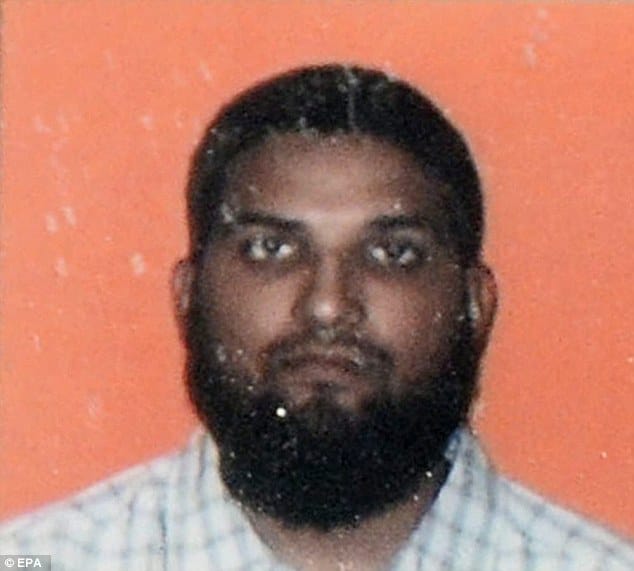 Addressing claims that Tashfeen Malik had pledged allegiance (via an alias identity, before taking down the post) on Facebook to ISIS leader al-Baghdadi moments before Wednesday's carnage, the FBI reiterated their belief that the Muslim couple were not part of a larger plot or members of a terror cell.
Since the attack, ISIS have conspicuously declined to address the couple's attack or Malik's pledge, let alone take responsibility as has become typical of its 'scores.'
A Facebook official said Malik praised Islamic State in a post at 11am Wednesday, around the time the couple stormed a San Bernardino social service center and opened fire.
Speaking at the Dar Al Uloom Al Islamiyah-Amer mosque, where Farook worshipped, assistant teacher Roshan Abassi said that Malik 'dressed modestly and didn't show her face'.
'He [Farook] hasn't come to our mosque for a while, it's been around a month,' Abassi said 'Even if she [Malik] would come, I couldn't see her because she was modestly dressed, she didn't show her face.'
He said he had spent some time speaking with Farook but claimed conversation was limited to pleasantries.
'He would say hello, how are you, what's up, what are your future goals,' he explained.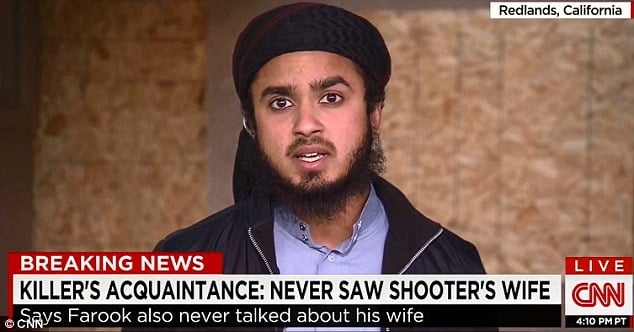 Fellow worshipper Nasser Shehata said he spoke to Farook regularly and described him as 'very quiet and shy'. 
'He worked in the area but he lived in Riverside,' he said. 'He was a very quiet person, on the shy side. He prayed and he would leave.
'Two years [ago] he went to Saudi Arabia and married his wife but he didn't get radicalized there.
'Six months ago, he was very happy when his daughter was born and he looked forward to having a life with his daughter. Something changed in the last six months.' 
Some investigators believe Malik and Farook were self-radicalized, but it is also possible that someone may have motivated them. 
Malik moved to Saudi Arabia from Pakistan about 25 years ago but returned home to study to become a pharmacist, according to two Pakistani officials. She had two brothers and two sisters and was related to Ahmed Ali Aulak, a former provincial minister.
Malik was from the Layyah district in southern Punjab province, the officials said. She returned to Pakistan five or six years ago to complete a degree from Bahauddin Zakariya University in Multan.
An online transcript from Bahauddin Zakariya University uncovered by Daily Mail Online on Friday shows Malik scored 74.88 out of 100 on one of her pharmacy exams. 
Is Syed Rizwan Farook a terrorist because he is a Muslim?
Syed Rizwan Farook and wife planned attack, left baby daughter with family
Did Syed Rizwan Farook and Tashfeen Malik plan terrorist attack?
Terrorist plot? Who is Syed Raheel Farook? San Bernardino shooter
Is Farooq Saeed possible ISIS San Bernardino shooting suspect?
Watch: Two San Bernardino suspects shot dead during police chase
San Bernardino shooting leaves 14 dead. Why did 3 gunmen target Inland Regional Center?