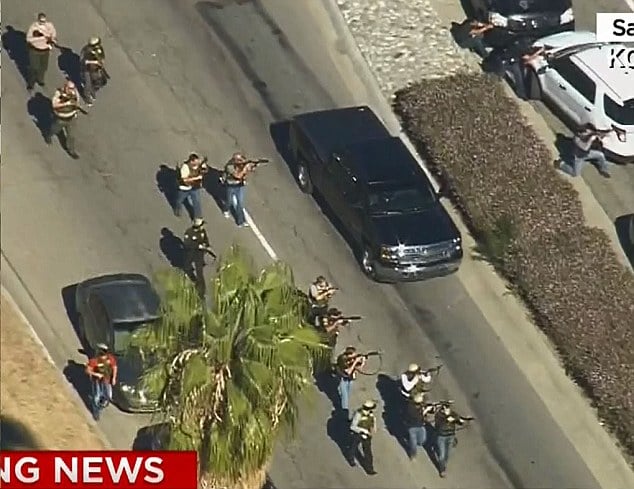 Three masked 'white' suspects donning military gear have fatally gunned down at least 14 individuals, with another 14 injured after storming a conference rooming hosting Christmas celebrations at Inland Regional Center at San Bernardino, California.
The mass shooting took place at a facility which caters to individuals with developmental disabilities. Why the venue was itself targeted has yet to be necessarily understood.
Offered San Bernardino Police spokeswoman Sgt. Vicki Cervantes to reporters: 'Multiple shooters came in and just started shooting,'
'There are multiple casualties and confirmed fatalities.'
Cops: 'Syed Rizwan Farook planned attack with radical Muslim terrorists'

Muslim newlyweds massacre co workers who threw them baby shower
Is Syed Rizwan Farook a terrorist because he is a Muslim?
Syed Rizwan Farook and wife planned attack, left baby daughter with family
Did Syed Rizwan Farook and Tashfeen Malik plan terrorist attack?
Terrorist plot? Who is Syed Raheel Farook? San Bernardino shooter
Is Farooq Saeed possible ISIS San Bernardino shooting suspect?
Watch: San Bernardino suspect shot dead during police chase
According to the Inland Regional Center's Facebook page, the facility describes itself as 'Serving individuals with developmental disabilities in Riverside and San Bernardino counties.' There are 670 people who work at the location, serving over 30,200 people per year. The company's website says that the Inland Regional Center is a 'nonprofit, private community-based agency that is proud to help obtain services and support for our constituents.'
According to a report via Fox Los Angeles reports the suspects were described as 'white males' in 'military gear' and armed with 'rifles,' and AK47's
Subsequent to inflicting their carnage the men were observed speeding away from a parking lot in a black SUV, where they now remain fugitives at large.
To date, nobody has been taken into custody as a result of the shooting and no official description has been released.
Present reports tell of multiple agencies coming across a 'suspicious' device inside the facility on the second floor, with cops later detonating the device.
In turn, attending ambulances were preempted from coming too close, with NBC Los Angeles reporting that the injured were being ferried via pick up trucks.
According to  Fox Los Angeles the San Bernadino shooting first unfolded after one of the suspects walked into a conference room and began opening fire. According to the Inland Regional Center's website, which has gone down, the center was hosting a 'holiday boutique' on Wednesday from 9 a.m. to 2 p.m. An instance that has led some to believe that the suspects were most likely aware of as they preyed on the collective.
The shooting was first reported at about 11 a.m. One employee, Mark Stutte, told KTLA that the gunfire broke out at the party. An employee of the building, Brandon Hunt, told CNN that none of the victims were IRC employees, the target appears to have been a banquet that was being attended by county personnel who had rented out the space.
Of question is if the assailants had specifically come to take down party attendees or had targeted the facility because of its large congregation at any point of time with disabled youths also living on the site.
A report via the nytimes told of Peter Asten, a member of the board of trustees at Inland Regional, saying there was 'not a lot' of security at the campus, and that he did not believe there were on-duty security guards.
At the time of the shooting, people inside the building sent panicked texts to friends and relatives as the gunmen stormed the center. 
A woman named Holly who works at the learning center where the shooting took place texted her father, Terry Pettit: 'Shooting at my work. People shot. Waiting for cops to catch him. Pray for us.'  
Another witness who hid in the building as the facility was under attack told of hearing up to 25-30 gunshots.
A day before the shooting, the San Bernardino center hosted a children's Christmas party.
The shooting in San Bernardino comes less than a week after a man opened fire at a Planned Parenthood facility in Colorado, killing a police officer and two civilians, and injuring nine others.
Of note, according to Google Maps, there is a Planned Parenthood located less than two miles from Inland Regional Center.