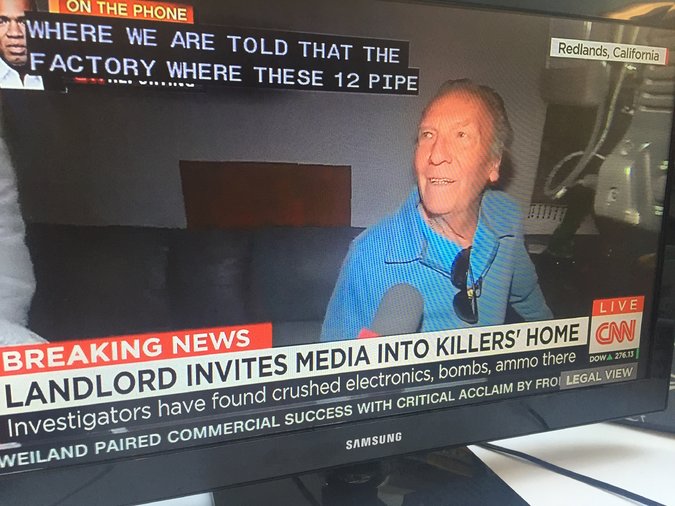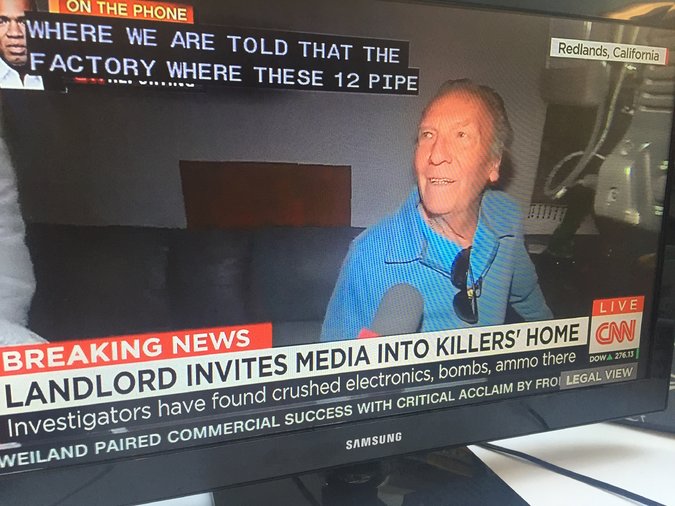 In latest developments regarding America's new past time, getting to the bottom of whether Syed Rizwan Farook and his wife Tashfeen Malik were part of an ISIS operative, Farook's landlord, Doyle Miller, 81, has been arrested after allowing the media inside the family home for a special sneak view.
Naturally the landlord's gesture didn't go down too well with law enforcement, as the Redland, California home remains the scene of an ongoing investigation. But try telling that to the landlord who was strangely only too happy to let the desperate media inside and give us a peak at how a terrorist lives.
Was Tashfeen Malik an ISIS agent? Did she radicalize Syed Farook?
'Just lies,' Syed Rizwan Farook family call FBI investigation a sham.
Syed Rizwan Farook secret double life: 5000 bullet stockpile, dozen pipe bombs.
Nicholas Thalasinos gunned down by Syed Rizwan Farook cause he was Jewish

Cops: 'Syed Rizwan Farook planned attack with radical Muslim terrorists'
Muslim newlyweds massacre co workers who threw them baby shower
According to media reports, Doyle had 'dropped' by the family home to 'assess' the damage after law enforcement officers had finished their search.
Harangued by 'journalists' at the scene, Doyle agreed (or was he just pushed over?) to let media folk inside for a special sneak view which according to CNN soon led to cops 'escorting' the landlord in an unmarked vehicle. 
CNN reporters outside San Bernardino killers' home says landlord was escorted away by law enforcement, put into unmarked vehicle

— Jon Passantino (@passantino) December 4, 2015
Which of course posits the question, what did the media find anyway?  
Reports the nytimes: Dozens of reporters and camera crews rushed in, perusing closets and cabinets, and picking up documents. People walked openly through a front doorway that had been covered by plywood, the door itself broken nearly in half and off its hinges. Papers, business cards, even California driver's licenses were strewn across a bed in a back bedroom.   It was soon off to the races with the press falling all over themselves, proving once again that morals, good taste, regard and respect to the family and privacy doesn't really matter when there's a hot story to savor.  
Does MSNBC realize there might be real world consequences for the folks who are being shown, in conjunction w/ terrorists, on national tv? — Sara Lang (@SaraLang) December 4, 2015
CNN's law enforcement analyst appears shocked by what CNN's reporters (and other reporters) are doing.

— Nick Confessore (@nickconfessore) December 4, 2015
MSNBC just doxed Rafia Farook, mother of a terrorist, on live television. I've blurred the important bits. pic.twitter.com/VqPwT60yVY — David Boles (@DavidBoles) December 4, 2015
While cable outlets MSNBC and CNN were thrilled to get the goods, the outlets would soon change tact, issuing statements acknowledging that they just might have gotten out of line. You suppose?
Told a statement via MSNBC: 'We regret that we briefly showed images of photographs and identification cards that should not have been aired without review.'
CNN went on to tell that it had made a conscious editorial decision not to show close-up images of any material that could be considered sensitive or identifiable, such as photos or identity cards.
Despite having been given the go ahead to come back to the home by the FBI, and given the media's zoo like behavior the Feds ended up boarding up the house once again. A sequence of events that Doyle Miller may have caught a whiff off as he was taken away ….