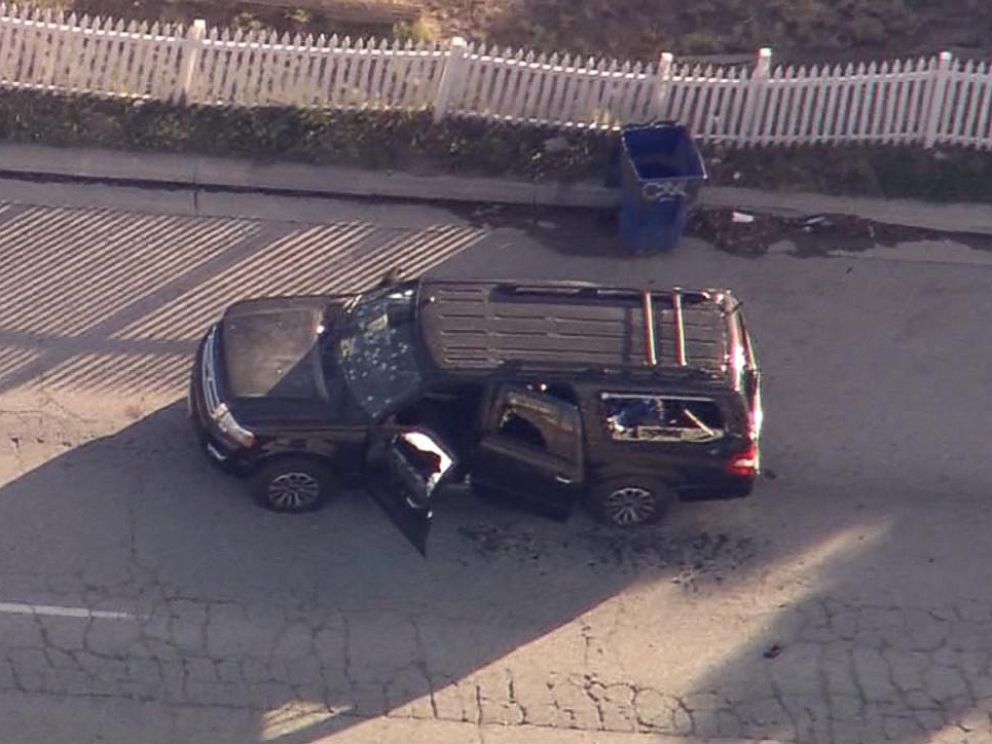 New developments regarding the San Bernardino shooting tell of two masked fugitives being shot dead in a hail of bullets during high speed car chase with police.
The chase taking place through residential streets reports myvalleynews ended in a crash as the presumed assailant(s) fired off a range of gunshots after authorities gave chase.
According to a report via CNN,  suspects threw pipe bombs out of the windows of the vehicle before the shootout with police.
Cops: 'Syed Rizwan Farook planned attack with radical Muslim terrorists'
Muslim newlyweds massacre co workers who threw them baby shower
Is Syed Rizwan Farook a terrorist because he is a Muslim?
Syed Rizwan Farook and wife planned attack, left baby daughter with family
Did Syed Rizwan Farook and Tashfeen Malik plan terrorist attack?
Terrorist plot? Who is Syed Raheel Farook? San Bernardino shooter
Is Farooq Saeed possible ISIS San Bernardino shooting suspect?
San Bernardino shooting leaves 14 dead. Why did 3 gunmen target Inland Regional Center?
In almost too surreal overtones, the takedown took place on live tv as news helicopters captured the moment armed police and armored vehicles surrounding a black SUV near the Cornerstone Assembly of God church on San Bernardino Avenue – a mile and a half from the Inland Regional Center where the mass shooting occurred this morning.
It is thought authorities gave chase after coming across a vehicle believed to be used as a getaway vehicle by the assailants earlier in the afternoon, a black SUV.
With one assailant dead, authorities tell of another suspect shot and wounded and later taken into custody.
Police believe a third suspect may be hiding in or around some nearby homes.  Police are combing the area by the dozens.
Neighbors near the SUV scene Shedden Ave and San Bernardino Ave reporting 'hundreds if not thousands' of shots exchanged.
New developments include police serving a search warrant on a home in Redlands, California, in connection with the deadly shooting at a social services facility in neighboring San Bernardino.
Around six vehicles carrying helmeted police drove into the area, AP reported. One officer carrying an assault rifle ordered reporters to clear the area, and an armored vehicle parked outside a row of homes.
In live footage o the #SanBernadino standoff, 1 suspect is dead, bloody mess hidden by tree in lower left. https://t.co/W9BpLDJo8e

— Tom Crowe (@TomCrowe) December 2, 2015
In further reports, the number of people injured in the shooting has now risen to 17, according to Police Spokeswoman Sgt. Vicki Cervantes, with 14 already confirmed dead.
During a press conference, San Bernardino Police Chief Jarrod Burguan told authorities could not speculate on motives, adding that that it was too early to say whether the attackers targeted that area or chose it out of convenience or at random.
Still unaccounted for are two other suspects believed to have taken place in this morning's mass shooting at local Inland Regional Center as the masked suspects, donned in military gear, ski masks, vests and AK47's entered a rented conference room during a holiday party and set about shooting individuals.
Unconfirmed reports tell of cops now in a stand off with one to two remaining fugitives and the possibility of a pipe bomb. Earlier in the day, cops detonated what appeared to be a 'suspicious' device.
According to the Inland Regional Center's Facebook page, the facility describes itself as 'Serving individuals with developmental disabilities in Riverside and San Bernardino counties.'