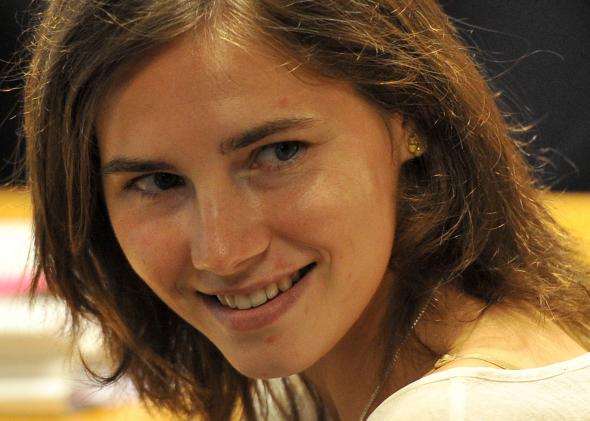 Patrick Lumumba the 42 year old Congolese bar owner falsely accused of killing Meredith Kercher has told the decision to acquit Amanda Knox is a triumph of being 'American and rich' rather than justice.
In an interview with the UK's guardian, Lumumba who now lives in Poland with his wife after losing his bar and struggling to find a job in the wake of the false murder accusation against him at the hands of Amanda Knox told the surprise ruling by Italy's supreme court to annul the murder convictions of Knox and her former boyfriend, Raffaele Sollecito was motivated by political and diplomatic reasons.
Amanda Knox acquitted but half of America still thinks she's guilty.
He told the Observer: 'This is not good for justice, I think it shows the power available for rich people – she's American and rich. For a country like Italy this is not good. I think there were diplomatic problems with the US and it makes things difficult with the US so they let her free.
'Amanda is free because she is American, but Americans are human like everybody.'
Lumumba was arrested in November 2007 and spent two weeks behind bars after Knox told Italian police he had killed 21-year-old Kercher.
At the time Knox, now 27, told investigators that she had 'covered her ears as he [Lumumba] killed' Kercher in the bedroom of the flat the two women shared.
Knox's claim – which Italian prosecutors alleged was intended to direct suspicion away from herself – was later proved to be false and Knox was given a three-year sentence for it. She has since admitted to struggling with guilt over the false accusation.
But Lumumba, who said his life and business were ruined by the allegation, said: 'Amanda lied to me. I am feeling very bad [about the acquittal].'
Kercher's mother, Arline has in turn told she was 'surprised and shocked' at the Italian high court's ruling, adding it was too early to know what the family would do next. 
Before Friday's verdict it had been widely anticipated that the court would order a retrial, even if it overturned the previous convictions. The decision by the five-judge panel to clear the pair definitively ends the long-running saga.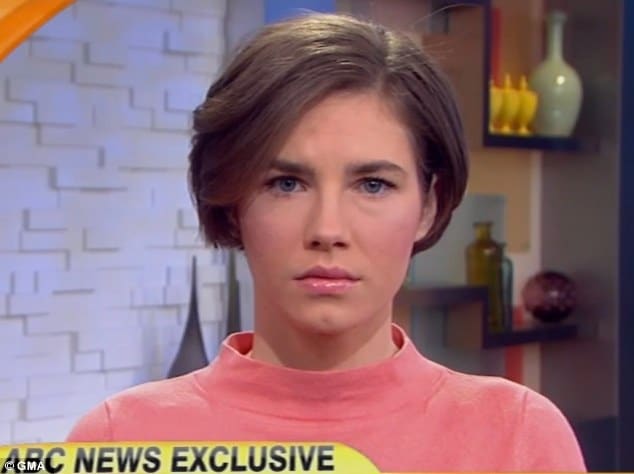 In further developments, Amanda Knox's lawyer, Carlo Dalla Vedova told the Sunday Times in London that her client plans to return to Italy and write a book on the country's justice system. At present it is not understood what fees the writing graduate will receive for the upcoming book, having been offered a $4 million advance for her previous biography, Waiting to Be Heard.
The decision to return to Italy comes after the ingenue had vowed to never to return to Italy after having previous verdicts against her overturned until Friday's surprise verdict, which many wonder was more of Italy's political system's reluctance to take on the US political system, process of due extradiction and the well oiled pr machine that Knox's family has paid well into the millions over the last 8 years to make sure public opinion stayed with her.
Which is to suggest the real battle wasn't so much in the court rooms but in the realm of public opinion and the tabloids…
Colin Sutherland. Amanda Knox engaged to Brooklyn musician. But will it last?
Raffaele Sollecito incriminates Amanda Knox alibi: She wasn't with me
Porn company offers Amanda Knox $20K to star in xxx video
Amanda Knox former prison guard: 'She is like an ice maiden.' Have we been fooled? 
Amanda Knox's ex boyfriend, Raffaele Sollecito arrested at Austrian border.
Amanda Knox interview Good Morning America. Media complicity…
Foxy Knoxy. Twitter thinks Amanda Knox is too hot to go to jail.
Amanda Knox guilty but will she be extradited to serve 28 1/2 years jail?
Amanda Knox gets busy plugging her book. A media whore to go…
Will Amanda Knox be extradited? Heated debate ensues.
Breaking: Italian prosecutors have appealed to reinstate Amanda Knox's conviction.
Amanda Knox offered Porn DVD tape deal. No sex required.
Amanda Knox, media screen siren let off the hook.
Amanda Knox sentenced to 26 years in Italian jail.