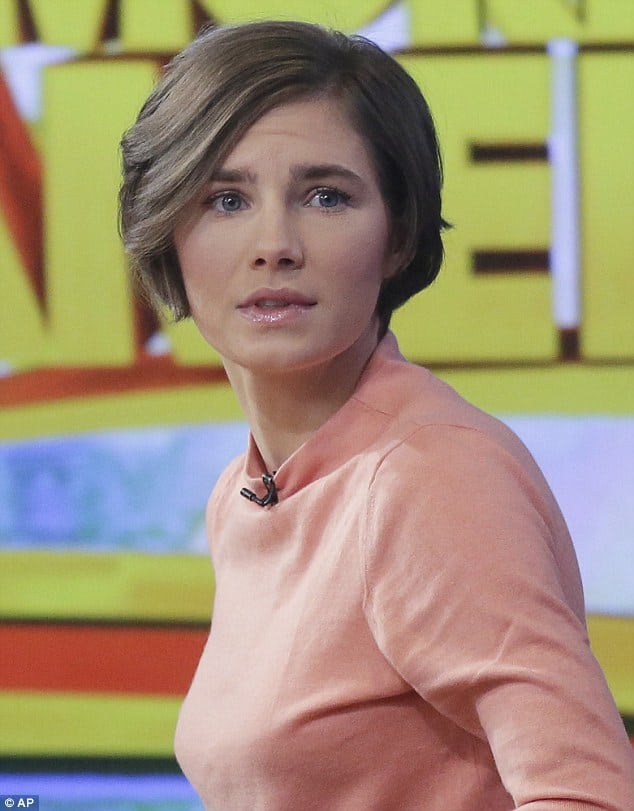 In a move that risks putting the onus on Amanda Knox, 28 over the death of British student, Meredith Kercher, Italy's Raffaele Sollecito is switching his defense strategy, telling prosecutors that his then girlfriend and exchange student, Amanda Knox was in fact now not with him on the night of the murder of Kercher.
Porn company offers Amanda Knox $20K to star in xxx video
Amanda Knox former prison guard: 'She is like an ice maiden.' Have we been fooled? 
Amanda Knox's ex boyfriend, Raffaele Sollecito arrested at Austrian border.
Amanda Knox interview Good Morning America. Media complicity…
The change of tact is thought to have profound implications for the Amanda Knox alibi as the then student had told on the evening of Kercher's death, she had been in the company of her then boyfriend, Raffaele Sollecito who would come to be implicated in the murder after investigators had come to believe that Knox had come to despise Kercher in recent weeks after the British student had taken up residence with the Seattle native.
Sollecito and Knox, originally sentenced to 25 and 28 years in prison, respectively, for the murder of Kercher in Perugia would come to serve four years before being released in 2011 after questions of the evidence tendered were raised.
Nevertheless on January 30, an Italian appeals court re-convicted the pair of murdering former roommate Kercher – a ruling the pair have since sought to again appeal.
Prior to Sollecito's sudden about face, Knox and Sollecito had always maintained that they were together the evening of the brutal 2007 murder after which Kercher, 21, was found half naked her throat slit in the cottage she shared with Knox.
But now Sollecito has pointed to phone records that show that Knox was away from his house for part of the evening.
In a dramatic change of legal tactics that he announced in a press conference in Rome he has now claimed there are 'anomalies' in Knox's story.
Knox says that she received a text, while at Sollecito's house, from her boss, telling her not to come to her job at a nightclub that night.
But phone records show that the text was received on the road between their houses, something that their retrial judges felt was key in their reconstruction of events. Sollecito's phone and computer records show that he was at home that evening.
'I am not the guarantor of Amanda Knox, I am Raffaele Sollecito,' tells the Italian IT graduate, who spoke at a press conference in Rome on Tuesday sporting long hair and wearing a white jacket.
Adding: 'I have always believed in the innocence of Amanda. But I have to react to the accusations of the court and to the text message.
'Either the court has made their umpteenth mistake or she lied to me.'
He added: 'I was in love with her and we had some very happy moments, but ultimately Amanda was a stranger.'
'There are anomalies in her version of events. Against me there is nothing.'
'The 'fundamental basis' for the conviction is Knox's memo to police in which she says she was at the cottage when the murder took place,' he said.
'I believe this was a hallucination, but if the court believes it is true then they have to accept that she did not say I was there. She gave me an alibi. '
It is not the first time Sollecito has claimed his memory of his night at home with Knox was uncertain, and he insisted on Tuesday that he was not changing his story, but by placing new stress on his doubts, the Italian is further distancing himself from Knox.
Previous reports also tell it is not the first time Sollecito has expressed his doubts about the holes in Knox's story.
In an interview with Italian television earlier this year, he said Knox had spent the night with him but went back to her place to shower, he said. When she returned, she was 'very agitated,' he said.
She told him that it looked like someone had broken in and that there was blood in the bathroom, Sollecito said. But rather than call the police, she showered and returned to his place something he finds odd. 'Certainly I asked her questions,' he said. 'Why did you take a shower? Why did she spend so much time there?'
He didn't get any real answers from her, he said.
Despite imploring he still believes in Amanda Knox's innocence, the new tact in essence seeks to remove himself from the murder scene as well as negating any possible motive he may have had to kill Kircher. A motive that prosecutors may come to believe Knox had solely at her own discretion.
Since being freed in 2011, Amanda Knox has been in the United States, having left Italy immediately after an earlier appeals court ruling overturned the initial lower court conviction that had led to her imprisonment in Italy. She has since vowed she would never 'willingly' return to Italy to face her fate in court.
She has also told she is hopeful Italian courts will 'once again recognize' her innocence.
Foxy Knoxy. Twitter thinks Amanda Knox is too hot to go to jail.
Amanda Knox guilty but will she be extradited to serve 28 1/2 years jail?
Amanda Knox gets busy plugging her book. A media whore to go…
Will Amanda Knox be extradited? Heated debate ensues.
Breaking: Italian prosecutors have appealed to reinstate Amanda Knox's conviction.
Amanda Knox offered Porn DVD tape deal. No sex required.
Amanda Knox, media screen siren let off the hook.
Amanda Knox sentenced to 26 years in Italian jail.