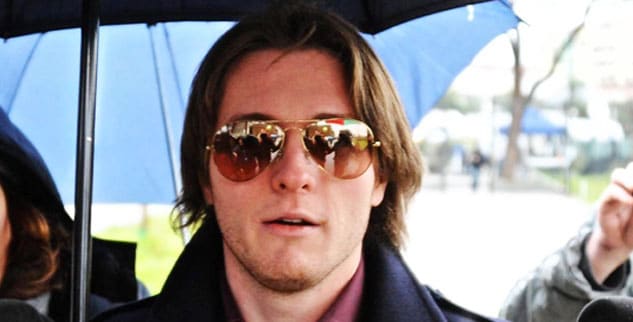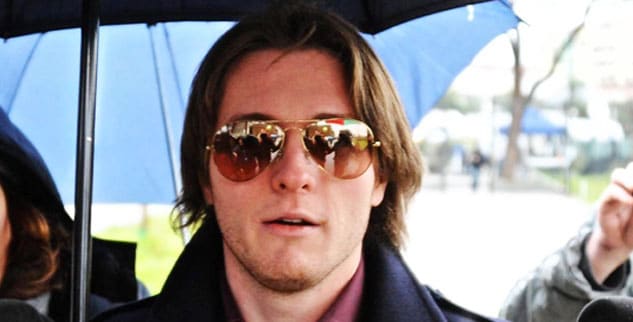 Italian authorities last night arrested Amanda Knox's ex boyfriend, Raffaele Sollecito at a hotel near the Austrian border. Hours earlier, Knox and Sollecito had been convicted for the second time of murdering British student Meredith Kercher in 2007.
Police found Sollecito staying with his current girlfriend, Greta Menegaldo, in a hotel between the northern towns of Udine and Tarvisio, just six miles from the Austrian border. Thursday morning, he attended his trial in Florence, some 206 miles from the hotel where he was arrested last night. Nevertheless he was absent that afternoon when he was sentenced to 25 years. At the time he had told he would be realizing the result's of the court's decision with his family.
Upon leaving the Florence courtroom earlier that morning Sollecito told reporters: 'I have nothing to add to what I have always said – I am innocent.'
Offered the head of the Udine police squad, Massimiliano Ortolan: 'I think it's somewhat significant that, before the sentence was handed down, he left Florence where he had been and traveled many kilometers to get close to two frontiers, Slovenia and Austria.'
'It is a bit perplexing.'
After his arrest later that evening he was taken to the police station, where his passport was seized and his papers stamped to make clear that he is not allowed to leave Italy. Until his conviction is confirmed, he is free to roam the country.
'Raffaele Sollecito… was notified of the cautionary measures of the travel ban and the confiscation of his passport in the first hours of this morning,' a note from Italian police read.
Leading into the court's judgement, the court had ruled that there was a 'real and present' danger that Sollecito would flee the country. The judges said that although he had taken part in the latest judicial proceedings, Sollecito had shown an interest in obtaining 'logistical support in countries with which Italy does not have relations of [mutual] judicial assistance.'
The 29-year-old was recently reported to have taken a holiday in Santo Domingo and to have looked for work in Switzerland. The court ruled that he could not leave Italy again without permission from a judge.
Told Raffaele Sollecito to NBC News in an exclusive interview Friday afternoon: 'The first thing that came to my mind was to wait for the reasons of this verdict…I will look into the reasons of it.'
Sollecito reiterated that he wasn't trying to flee the country, but that he was outside Italy when the verdict was read — and on his way back in.
'As soon as I got the news there was a guilty verdict … I came right immediately back in Italy.'
Amanda Knox former prison guard: 'She is like an ice maiden.' Have we been fooled?
Amanda Knox interview Good Morning America. Media complicity…
Foxy Knoxy. Twitter thinks Amanda Knox is too hot to go to jail.
Amanda Knox guilty but will she be extradited to serve 28 1/2 years jail?
Visit NBCNews.com for breaking news, world news, and news about the economy