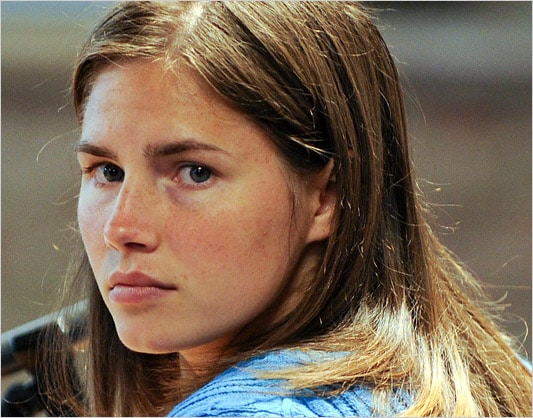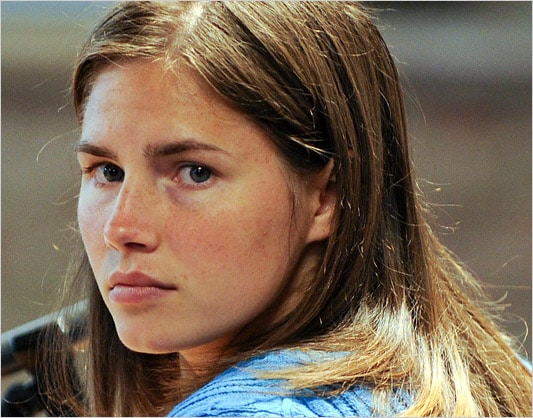 An Italian court has today found Amanda Knox guilty of the 2007 murder of Meredicth Kercher. Along with her former boyfriend Raffaele Sollecito who the court also found guilty the former couple have been sentenced to 28 1/2 and 25 years jail respectively.
Foxy Knoxy. Twitter thinks Amanda Knox is too hot to go to jail.
The verdict comes off the heels of Italian prosecutors calling foul on the pair's acquittal in 2011. In making their decision, Italy's highest court pointed to a decision by a lower court in March of 2012 which denigrated the 2011 acquittal on the basis that court process was flawed given the omission of critical DNA evidence.
Kercher and Knox were both studying in Perugia in 2007 when the murder happened. Police found Kercher dead in the apartment she shared with Knox and two Italian women. Kercher's throat had been cut and she'd been stabbed more than 40 times.
Days later, police arrested Knox and Sollecito and charged them with the murder. The pair would eventually be sentenced in 2009 lengthy prison sentences before subsequently being released in 2011 after an appeal found a lack of evidence against the former couple.
Eventually another man, Ivory Coast-born Rudy Guede was also said to be involved in Kercher's murder, with prosecutors claiming Kercher's death came as a result of a sex game that went wrong. To date Guede is the only person in jail for the murder, and many aspects of the crime still remain unexplained.
Upon her 2011 release, Amanda Knox promptly returned to her home state of Seattle, Washington where it is believed she has made a new life for herself. She has vehemently told leading into today's ruling that she will not return to Italy to serve additional time on top of the four years she spend behind bars in the event if she were found guilty, which raises the awkward question will the US force her to serve her new jail sentence?
US law dictates that a person can't be tried twice on the same charge. Which has prompted the question if Italy requests an extradition for Amanda Knox with the US seek to extradite her?
Told Sean Casey, a former prosecutor who is now a partner at Kobre & Kim in New York: 'She was once put in jeopardy and later acquitted,'
'Under the treaty, extradition should not be granted.'
That said Rebecca Shaeffer, an international law expert with Fair Trials International, told the Independent that if Italy sought extradition and it was 'refused by the US, there are other things that Italy might do' to ensure Knox's incarceration.
Added Shaeffer: 'As a country seeking to extradite the person, [Italy] might contact Interpol for help or use a red notice (and international arrest warrant). This means she would be safe in the U.S. territory – but not if she travelled abroad. She could be seized were another country minded to act on the request by the Italian authorities. So traveling would be the biggest danger for her.'
But until an extradition request is formerly made and dealt with, Knox remains in limbo.
Presiding judge Alessandro Nencini has 90 days to write his arguments behind the jury's ruling. Once that is out, lawyers have 90 days to appeal.
Raffaele Sollecito who is an Italian national living and working in Italy and who had attended court proceedings it is believed will now be forced to return to jail. That said he will retain his freedom until after the results of a new appeal is found. His password was yesterday confiscated.
To date Amanda Knox has maintained her innocence, telling that the ordeal has been 'a nightmare that goes beyond the imagination.'
The case has dragged on for more than six years, frustrating attempts by Kercher's family to discover the truth about her death. The three trials have done little to clear up mysteries surrounding the details of the murder.
Told Amanda Knox earlier this afternoon after receiving the guilty verdict: 'Having been found innocent before, I expected better from the Italian justice system. The evidence and accusatory theory do not justify a verdict of guilt beyond a reasonable doubt.'
And then there were these comments on the web that made me wonder as well:
If this had been reversed and a British girl had been involved in the murder of an American girl there would not have been this fiasco. Typical big headed American it is disgusting.
Has a really sneaky look on her face whilst faking vulnerability. A very skilled liar
.
The Yanks think they are above the law of other countries……..they demand people are extradited to them, yet refuse to give other countries the same privilege.
They act as though they are guilty and they have zero remorse. And I dont care how good looking they are.
Knox and Sollicito were found guilty in their first trial. They both APEALLED against that sentence. It was their appeal. They were never acquitted or found not guilty as the propaganda machine would like you to believe. In USA or UK the courts wouldn't have been so liberal and they most properly wouldn't have been released during their appeal. This verdict was inevitable. So much evidence against them. RIP Merideth.
Well thankfully they finally got it right…again. I cannot believe they let her go to begin with. I think they were pressured by people in America to acquit her, and they foolishly did. There was so much evidence against them, especially her, with the DNA on the knife handle that was used in the murder. It had Knox's DNA on the handle and Kercher's on the blade tip. That alone is enough for me. Take all the other evidence and the myriad of lies that she told and it should have been a slam dunk for ANY jury or judge. Italy foolishly acquitted her the last time because of the pressure from America, where having 2X chromosomes automatically renders one incapable of committing crimes. I just hope they get her back there for the Kircher's and justice's sake.
What's interesting is the Kercher family's unrelenting resistance to forgive Amanda Knox as Knox has repeatedly sought the family to do, arguing that nothing can bring back their daughter. Yet when one thinks about it, why must the Kercher family forgive her? They have found by law Amanda Knox guilty two times now, forgive for what? Forgive her so that she can let go of the guilt?
That said the question is how will the US handle things and what back door deal will it do to save itself from humiliation given the mounting public relations pressure 'to protect' Knox from the 'Italians' never mind its very own failure to follow and respect the law of other nations, double jeopardy or not  as it demands others must or it….
It is shocking that folks are posting in apparent total ignorance of the facts and how the Italian system works. She is subject to their laws and the last time I checked Italy is a free, left leaning democracy. She is clearly guilty. Apparently to simpletons she should go free because she is a pretty, blonder, spoiled American. When does her victim get a say?
The whole Italian government is a kangaroo court. That's why their country is such bad shape.
she did it. She's pure evil. A psychopath.
Amanda Knox gets busy plugging her book. A media whore to go…
Will Amanda Knox be extradited? Heated debate ensues.
Breaking: Italian prosecutors have appealed to reinstate Amanda Knox's conviction.
Amanda Knox offered Porn DVD tape deal. No sex required.
Amanda Knox, media screen siren let off the hook.
Amanda Knox sentenced to 26 years in Italian jail.