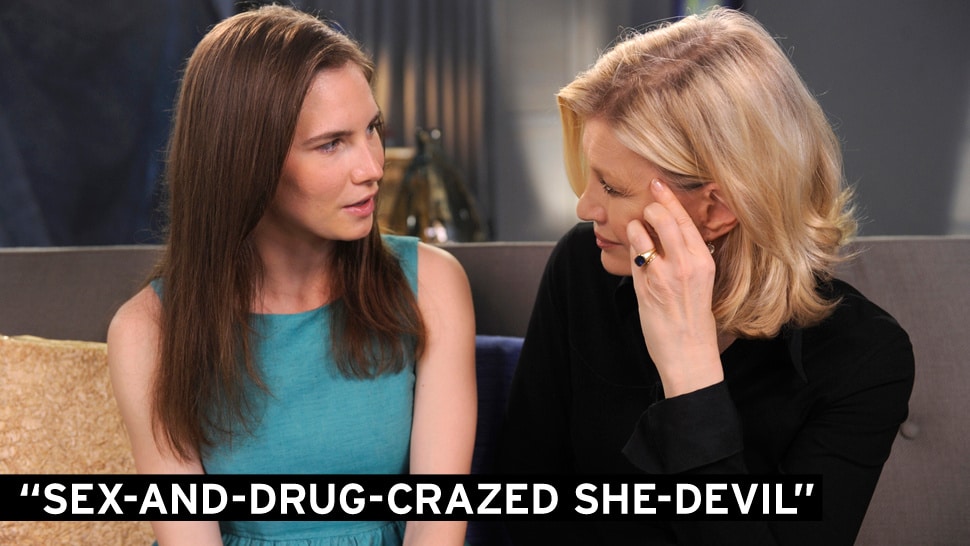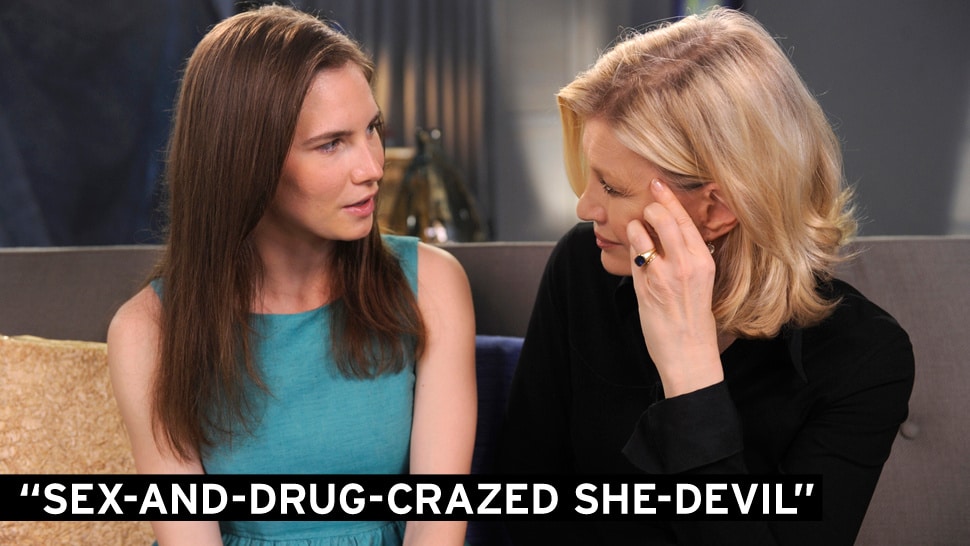 Will Amanda Knox be extradited? Heated debate ensues.
Breaking: Italian prosecutors have appealed to reinstate Amanda Knox's conviction.
Amanda Knox offered Porn DVD tape deal. No sex required.
Amanda Knox, media screen siren let off the hook.
Amanda Knox sentenced to 26 years in Italian jail.
On the eve of her much anticipated book release, 'Waiting to be Heard,' (could the irony be more palpable?) Amanda Knox who reportedly was paid as much as $4 million for her tell all side has taken to the media to make sure we all understand how painful the whole process of being incarcerated in Italy really was. In her most telling moment, the telegenic media star went on to tell the Queen of tv paparazzi, Diane Sawyer how surreal it all was was and 'how it could have happened to anyone.' Except that is it happened to her…
Timely stuff considering that Italy's highest criminal court as recently as March decided to overturn Amanda Knox's 2011 acquittal for the murder of British student Meredith Kercher and order a new trial. This after our heroine spent a total of four harrowing years behind bars and being subjected to consistent questioning of her apparent guilt or not. An issue which continues to vex many despite the 25 year's old insistence that she is not guilty of Kercher's death.
In last night's broadcast, Knox went on to tell Sawyer how 'incredibly painful' Italy's high court to retry the case has been for her and although she is ready to go back to Italy to fight the charges and clear her name, her lawyers have conveniently forbidden her to do so. Which of course has created a legal mess should the courts find her guilty in absentia which would then put the US government in a quandary as to whether to extradite the telegenic star.
During the telecast, Amanda Knox went on to tell Sawyer that although she was aware of being labeled a seductress, she-devil and other names in the media, she insisted "they're wrong."
Told Amanda Knox:
"I was in the courtroom when they were calling me a devil. It's one thing to be called certain things in the media, and it's another thing to be sitting in a courtroom fighting for your life while people are calling you a devil.
"For all intents and purposes I was a murderer, whether I was or not. I had to live with the idea that that would be my life."
And yet the irony of Amanda Knox is being considered a murderer has in many ways changed her life for the better. She has been able to garner public sympathy here in the US (the British tabloids for their part assume she is guilty as sin) as well as make out with a hefty payday for her memoir, 'Waiting to be Heard.' Never mind how much she may have been for last night's exclusive, guilty or not…as if that even matters anymore…
Since returning to Seattle in 2011, Knox has largely avoided the public spotlight in her Pacific Northwest hometown where she is studying at the University of Washington.
Knox said she's a changed person. Which is to say for now she is no longer the 'she sex starved seductress,' or whatever people like to call her…
Tells Knox plaintively: "I'm not as chirpy anymore."
Something to the ears of many may come off as shallow….