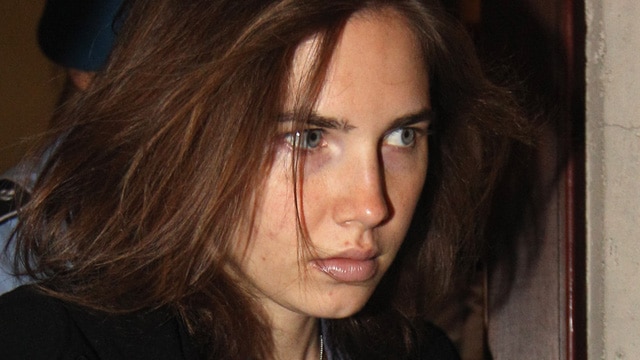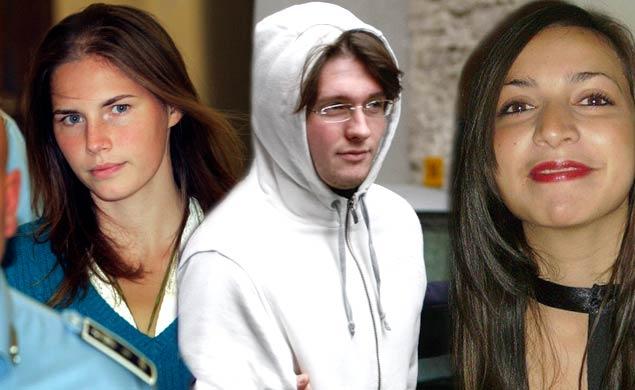 Breaking: Italian prosecutors have appealed to reinstate Amanda Knox's conviction.
Amanda Knox offered Porn DVD tape deal. No sex required.
Amanda Knox, media screen siren let off the hook.
Amanda Knox sentenced to 26 years in Italian jail.
Off the back of yesterday's news that America's Amanda Knox will now be retried for the 2007 murder of the UK's Meredith Kercher by Italian courts, questions are now running rampant as to whether Knox will be forced to serve a sentence if she is found guilty.
Complicating matters is the fact that the US bans double jeopardy, or being tried for the same crime over, yet Italy's courts hold no such law as they now seek to retry Knox  and her then Italian boyfriend Raffaele Sollecito after an investigation found that she had been unfairly released after serving four years behind bars during the cases's hearing.
At present legal experts argue that Italy's Supreme court's decision to bring the case back to court risks throwing both the US and Italy into unchartered territory as it is highly unlike that the US will extradite Knox to face trial.
Despite Knox's expected decision not to return to Italy, courts in Italy may choose to proceed with the trial without Knox in absentia.
Told Knox's Italian lawyer, Carlo Dalla Vedova: 'Amanda does not intend to come back for the retrial. Her home is in Seattle and she doesn't need to be here.' 
According to local press, Vedova went on to offer that the decision to seek a new trial (likely to begin next year) was quite shocking and appalling:
'She thought that the nightmare was over. But she's ready to fight.'
The decision by Italian courts to bring the case once again forward rested on the assertion that Knox and her then Italian boyfriend Raffaele Sollecito ought not have ever been released in the first place. At the time they were released on assertions that DNA evidence collected had been bungled up and contaminated. An assertion that Italian courts yesterday had gone on to renounce as superficial. Legal scholars have gone on to speculate that the entire body of evidence brought to the court's attention at the time ought to have been subjected to proceedings.
Complicating matters which probably inspired Italy's Supreme courts to bring the case back to trial along with the subjective handling of only certain elements of evidence are other issues brought up in the high-court appeal which the daily beast notes touched on the mysteries of the case, including the appellate court's dismissal of Knox's previous admission that she was in the house when the murder took place. The prosecution also asked that Knox's false accusation against Patrick Lumumba, her former boss at a club where she waitressed, as Kercher's killer be considered as evidence.
Reiterates the dailybeast: After all, the same appellate court upheld her conviction of slander for the accusation. Why not consider it a clue to the mystery, it argued. Finally, the prosecution asked the supreme court to examine the truth behind why Knox and Sollecito turned off their cell phones at the same time—for the first time ever—the night Kercher was murdered.
Told a State Department official to the UK's dailymail whether it would honor a request for extradition for Knox the official reflected that at present the State Department will refrain from making any further comment.' Hardly the most soothing affirmation that Knox was looking for as she is once again left guessing as to her fate.
Told Amanda Knox yesterday in a statement after learning of Italy's courts to retry the case:
'No matter what happens, my family and I will face this continuing legal battle as we always have, confident in the truth and with our heads held high in the face of wrongful accusations and unreasonable adversity.'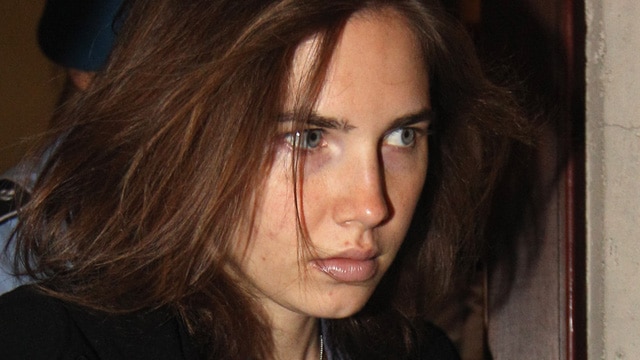 Yet perhaps the biggest irony to date considering yesterday's news is the fact that Knox's memoir, 'Waiting to be heard,' in which she presents her point of view and reflections of the case that has made her a world household name  is due to be released this coming April. One ought not be surprised that the book might now go on to be a best seller as readers clamber to read Knox's take as the attractive brunette is once again thrust center stage in duplicitous legal matters. For her part it has been reported Knox has already been paid a fee of up to $3.8 million. A fee that may now see itself escalating considerably.
Yesterday's decision comes off the back of a after a lengthy trial in Perugia, Italy which saw Knox and Sollecito convicted of murder in December 2009 and sentenced to 26 and 25 years respectively.
But two years later, the pair were freed after an appeal court found that the case had been botched and DNA evidence contaminated.
A third suspect, Rudy Guede, whose DNA and bloody footprints were found all over the crime scene, is serving a 16-year prison sentence, reduced from 30 years on appeal.
Ultimately one has to wonder who is really on trial isn't necessarily Knox as she once again wears the robe of a victimized media hero (is anyone really surprised?) but that of the Italian judicial system which has boldly decided that it can once again retry a case that had it really paid close attention to in the first place ought to perhaps have never led to Knox's release …Which is another way of wondering, should Amanda Knox be asked to bear the consequences of a flawed legal system despite any short comings or guilt that one can never entirely be sure of?