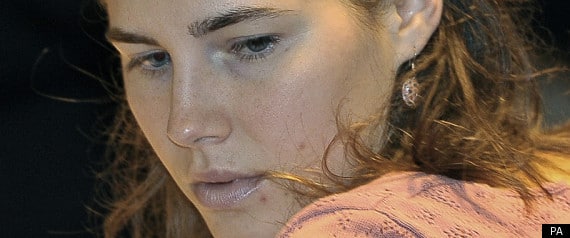 Amanda Knox was yesterday found guilty of the murder of 21 year old British student Meredith Kercher, sentencing her to 28 1/2 years in jail. Yet in a show of public support and debate, twitter has come to deride the new verdict, saying she is just too hot to go to prison.
From there a slew of twitter users told that sending Amanda Knox to prison (never mind if she actually did murder Kercher as the Italian courts have found) would be a travesty. A travesty because if you're hot you don't naturally belong in prison. Hot people as most of us have come to understand deserve better and beyond the rule of the land. Hot people like Amanda Knox are simply above the law.
Told a variety of twitter users, see below:
As the dailydot point out: This is far from the first time the media has lauded the woman dubbed "Foxy Knoxy" for her physical appearance. In 2012, the 26-year-old Knox was listed in Maxim's annual Hot 100 countdown, alongside Katy Perry, Megan Fox, and model Bar Refaeli. There's also this exceedingly tasteful Ranker list of Knox's sexiest photos, including "Amanda Knox in leggy blue dress" and "Amanda Knox Naturally Hot, in Nature."
Cause #FoxyKnoxy as you should understand is above the law, above the rigors of being plain and boring, above the mundane, above murder and certainly above what some court in Italy thinks. Just ignore that shit and go here and tweet: That bixch Amanda Knox is too hot to be a criminal.