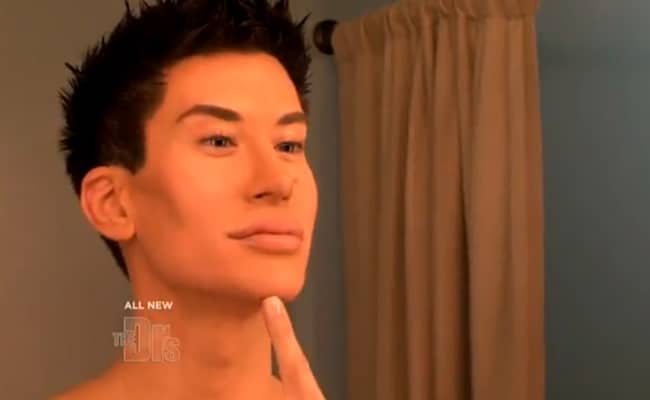 Meet the human Ken Doll, has had 90 plastic surgeries to look perfect. But is he?
Human Ken Doll, Justin Jedlica is in good spirits. Why you wonder? Cause he has finally given himself permission to love himself after spending the tidy sum of $100 000 to augment a few more plastic surgery procedures so his perfect self became of course even more perfect.
His sizable self investment (literally) has led to the rostering of 90 – 100 new nips and tricks including five rhinoplasties, a cranial brow bone shape and augmentations to his cheeks, lips, buttocks and chin.
Our hero Justin managed to make a guest appearance onThe Doctors last week, where he told the host he was flattered by the Ken doll comparison (you think?)  and called plastic surgery his "passion" and his "hobby", saying that asking him to stop modifying his body would be "like asking Picasso not to paint!"
Styleite go on to note that Justin has billed via his Instagram,  "NYC's #1 plastic surgery junkie," something many would be hard pressed to beat save for this interesting soul who has also managed to gather large amounts of press for her own handy work.
Which is all another way of saying Justin finally looks and feels like the thing in his mind that he always thought we wanted him to look and feel.
Isn't it time you became the fantasy you know you are so capable of being too?