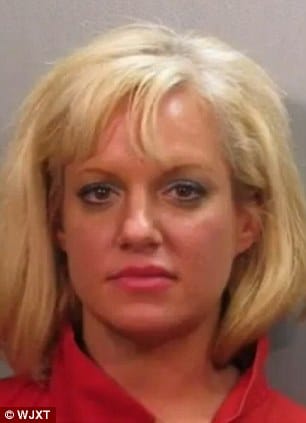 Here's a new 'obvious' way to let your soon to be ex husband know how you really feel about them. You spray the courthouse where your divorce is taking place with painted broken hearts. Which is exactly what one embittered woman, 35 year old Audrey Dostie found herself doing this past Thursday.
The action unfortunately didn't go down too well with authorities as Audrey had the misfortune of having her ass hauled in after ransacking the newly appointed Jacksonville, Florida courthouse which only cost a mere $350 million to build.
Read one delightful mark: "F Judge James Ruth" whist others read "Free Us!" and "$300 million courthouse." 
WJXT in Jacksonville reports Dostie is in the middle of a messy divorce and custody case. Coincidentally her husband also allegedly filed a restraining order against her and accused her of beating him up.
Police also go on to say Dostie has spray painted similar graffiti and messages to her husband and son outside her soon to be ex husband's business.
At present Dostie has been charged with criminal mischief and is now pending a mental health evaluation.
Isn't it time you had your heart broken too…?