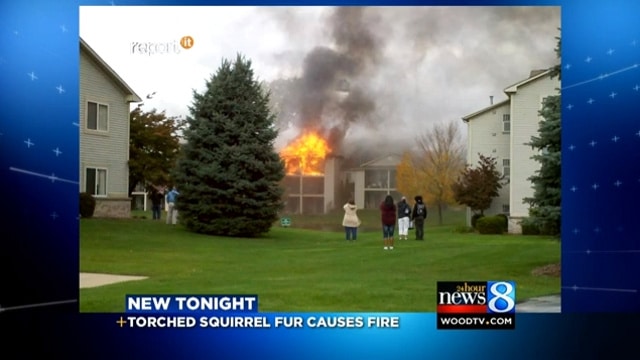 Hungry? Have you tried cooking a dead squirrel lately? Caution heavily advised…
Things have seemed to have gone awry in the enclave of Holland Township, Michigan after a man attempted to burn off a dead squirrel's fur that he was planning on eating with a propane torch.
Unfortunately for the man, whilst torching the squirrel (skinning a squirrel can be an arduous task hence the torch idea) he inadvertently lit the third floor deck from which then led to a widespread fire along the building complex causing 8 other apartments to go up in complete smoke. In addition to the 8 apartments being rendered completely obsolete and their contents forever gone an additional 24 units were made unsafe for habitation as a result of smoke and water damage.
Besides the dead squirrel being scorched to oblivion it is being reported a firefighter broke his toe tending to the scene according to Fire Chief Jim Kohsel.
At present the Red Cross is aiding displaced residents to the best of its ability.
Isn't it time you tried some dead squirrel for dinner sometime this week too…?
And for those who can't resist their succulent squirrels,here's a guide as to how to skin a squirrel, without a blow torch of course…
via WOOD-TV
Squirrel torched to eat; apts destroyed