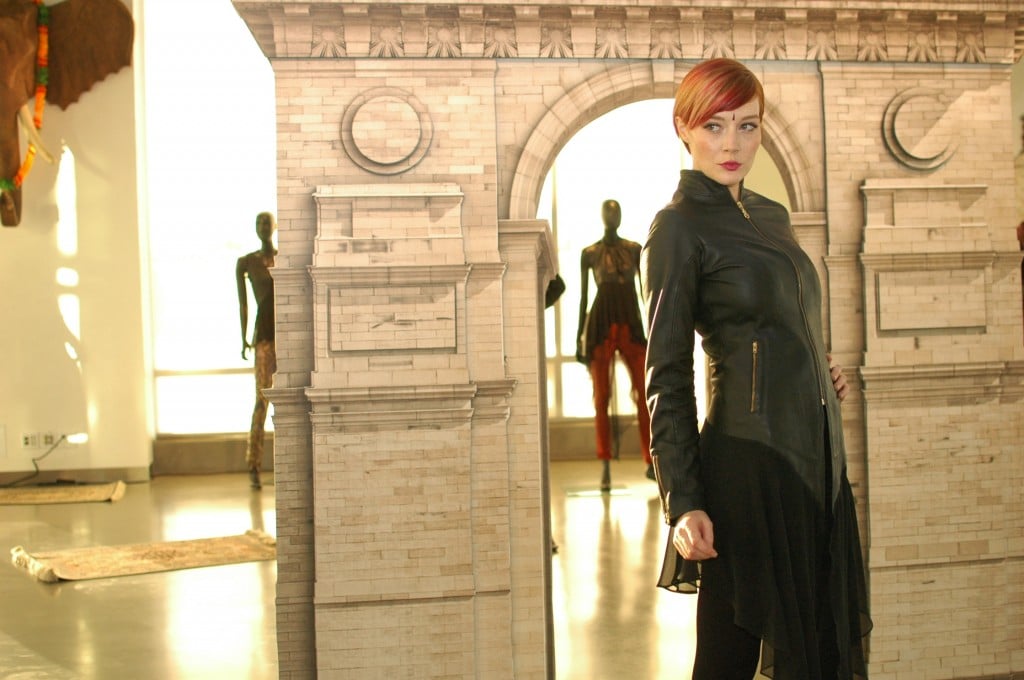 Models and mannequins loom against the panoramic New York City backdrop, framed with classic New Dehli archway architecture and exotic elephants protruding from this Chelsea art gallery's penthouse walls. The setting is perfect for the collection, which channels and creates a high-class-Indian-princess-turned-New-York-City-hipster vibe.
Sheena Trivedi flirts with tradition and rebellion, combining modern aesthetics and high quality fabrics to create a collection that can be worn day or night, east or west, New Dehli or New York. Standout pieces included a black leather and silk Georgette top with sombre multicolored brocade pants; a gold satin silk and nude sheep leather hoodie with black silk and gold embroidered skirt shorts.
The mix of fabrics tells the story of the designer, who has lived in New York City the majority of her life but draws inspiration from her Indian roots. "When my mother started her business, she told me that she only had one suit in her closet. She wore this everywhere…her secret was in accessorizing with shawls, scarves and jewelry to make the suit look unique every time she wore it"
The collection mirrors her mother's style; with pieces that can be worn together or as separates, creating an easy-to-wear classically timeless collection with a modern twist.