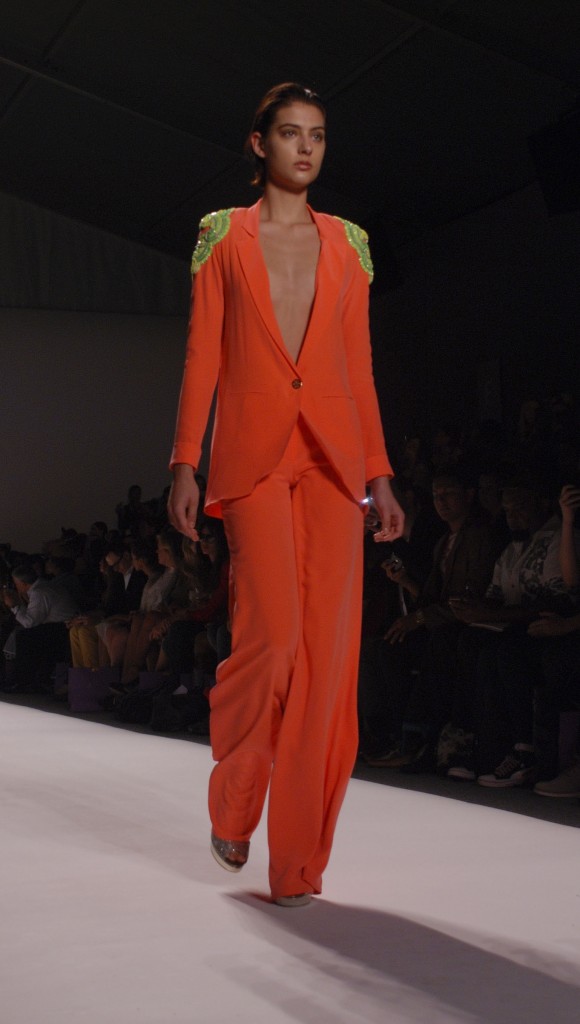 There nothing better than the emergence of Spring; the resurgence of beauty, color and warmth is coveted months in advance of its arrival. And much like the sensational sensory overload when it finally arrives, Noon by Noor crafted that ephemeral essence of the highly-anticipated season, and set it to a pitch-perfect orchestral pop beat in The Studio at Lincoln Center.
For Noon by Noor, all that glitters is gold. The decadent, dreamy color palette had richness and depth that can only be described as flawless— garments weren't just pink— they were the perfect shade of pink.  The understated balance of everything was apparent and appreciated; the variable mix of structure and flow, and offerings like jumpsuits that came both full length and as shorts, made a yin and yang come together, literally looking like a Spring sunrise and sunset in September. Not to be forgotten, intricate bead work and tantalizing final touches, like funky feathered shoulders, boasted both an expert attention to detail as well as incredible craftsmanship.
So chic, so hip, so wonderfully whimsical— the elegance of Noon by Noor's Spring/Summer 2013 collection is better than a breath of fresh air— it's like entering a whole new atmosphere.
Images continue next page.