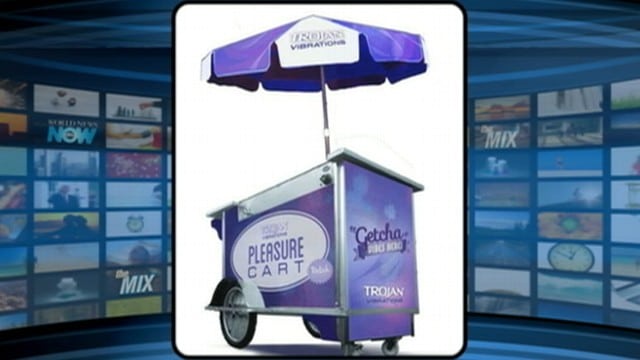 Have you gotten acquainted with your new vibrator yet?
Some of you at this very moment might be 'pleasantly' enjoying your vibrator giveaway courtesy of Trojan condom co (yes they now make vibrators) who yesterday morning took to the streets of NYC to soothe the frisky needs of New Yorker's.
Others amongst you on the other hand might be chagrined as you waited in a long line for your own very chance of nirvana when Mayor Bloomberg called an immediate hiatus to the vibrator give away (which are set to retail at $30).
Apparently Trojan set up 'pleasure carts' in two Manhattan neighborhoods with the intent to give up to 10 000 free vibrators. It's anyone's guess how many actually got given away, but on the off chance if you notice one of your co workers with an extra bounce in their step today it might have something to do with  a twirling machine ravaging the insides of their private parts….