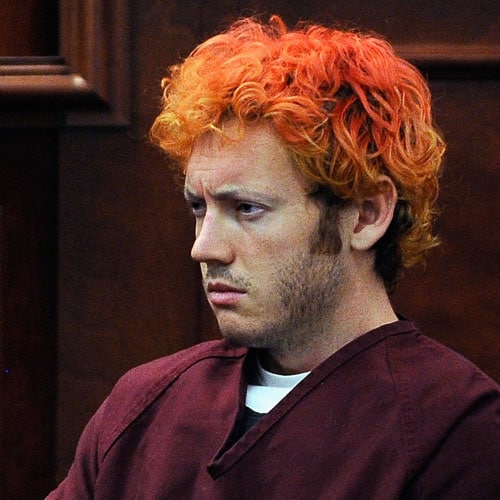 James Holmes is being evicted. Explosives and murders violated lease.
James Holmes the Aurora, Colorado shooter suspect is mentally ill according to his lawyers. The disclosure came at yesterday's court hearing in Centennial, Colorado where news media organizations had asked the presiding judge to unseal documents pursuant to the case.
According to witnesses, Mr Holmes had the same dazed demeanor that he has had in previous court appearances.
The revelation has led to concerns amongst amongst victims and their families that the court will now focus on Mr Holmes' condition rather than his actions.
Offered Shane Medek, whose 23 year old sister Micayla Medek was killed in the July 20 shootings: "It's like they're babying this dude."
Defense attorney Daniel King argued that the seal and a sweeping gag order ensure fairness. He also told the judge that the defense team needed more information from prosecutors and investigators.
"We cannot begin to assess the nature and the depth of Mr. Holmes' mental illness until we receive full disclosure," he said in court.
It's now thought that Mr Holmes' defense team will focus on Mr Holmes' purported lack of sanity and the fact that he had been seeing a school psychiatrist (prior to dropping out of his Phd program at the University of Colorado) .
Despite the appearance of him being 'out of it,' and 'crazy' as some have opined, the overwhelming consensus remains that the young man should nevertheless be left off the hook for his actions.
Said Chris Townsond who attended the court hearing with a wounded victim: "It doesn't give him the right to do what he did. I don't care how mentally damaged he is."
Reports abc: If Holmes goes to trial and is convicted, his attorneys can try to stave off a possible death penalty by arguing he is mentally ill or argue he's innocent by reason of insanity. Prosecutors have yet to decide whether to seek the death penalty.
Few details are known about the case because of the seal and gag order issued by Chief District Judge William Sylvester. The Associated Press and 20 other news organizations on Thursday asked him to scale back the order, which bars the university from releasing details about Holmes.
It is at present thought that the judge will rule by Monday whether to release sealed court documents. In the interim the public at large remains traumatized by the actions of James Holmes who many still believe concocted an elaborate ruse to adopt an ulterior alter ego to carry out his dastardly crimes while his defense team will more than likely argue his actions were the result of a mental imbalance that James Holmes had little hope of even understanding himself even if he knew enough to seek psychological counceling, which could posit the question how crazy is he really….?
James Holmes sent notebook to psychiatrist with plans before massacre. It sat unopened.
James Holmes snapped after failing key university exam. Couldn't live up to his brilliant father.
James Holmes may have intended NYC premiere as his initial target. Wanted to kill Dark Knight stars?