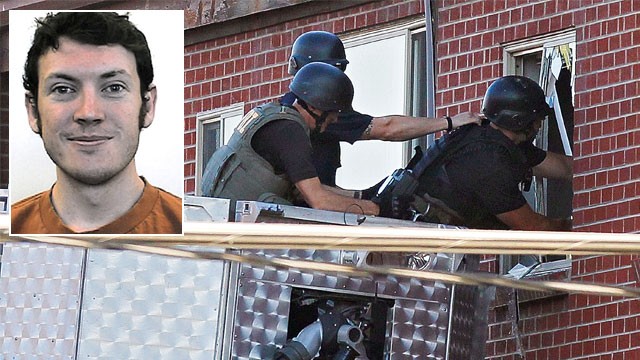 James Holmes is being evicted. Explosives and murders violated lease.
In what can be thought of as perverse and equally surreal, suspected Aurora Colorado shooter, James Holmes who is currently standing trial for the suspected murder of 12 and the injury of 58 people has found himself being evicted by his landlord.
The eviction of course will have little bearing as it is presumed that Mr Holmes will never be released back in to the public during his lifetime either through incarceration or committal to a mental facility. That said, the young man's lease was terminated as technically he is still a tenant of 1690 Paris st, said Victor Sulzer, an attorney with a legal firm that represents the landlord.
Said Mr Sulzer: "His actions are a substantial violation of his lease. The bombs were an endangerment of property and other tenants."
Perhaps it's a moot point now, but one can wonder even now the bizarre nature of how the law actually works and the due process that is required even in such instances as the present where Mr Holmes has little recourse to the outside world which he violently shunned with his actions.
According to the suit filed Wednesday in Adams County Court, Holmes is being evicted because he "murdered numerous individuals, materially and substantially damaged the premises and booby-trapped the premises substantially, endangering property and person."
All evictions must go through the same legal steps, no matter the individual or circumstance, Sulzer said.
"No landlord can evict without going through this process," 
As an aside, if Mr Holmes fails to send someone to retrieve his property it will be put out on the curb in front of the building. Isn't it wonderful to know that even mass murderers are subjected to the same due proceedings as other housing delinquents, never mind the other more serious presiding delinquencies that have yet to be deliberated on….?
On another front at least Mr Holmes is not being evicted for non payment of rent, which posits if it wasn't for all the firearms he kept and the deaths he causes he'd be getting up to another day at 1690 Paris st….
via denverpost
James Holmes sent notebook to psychiatrist with plans before massacre. It sat unopened.
James Holmes snapped after failing key university exam. Couldn't live up to his brilliant father.
James Holmes may have intended NYC premiere as his initial target. Wanted to kill Dark Knight stars?