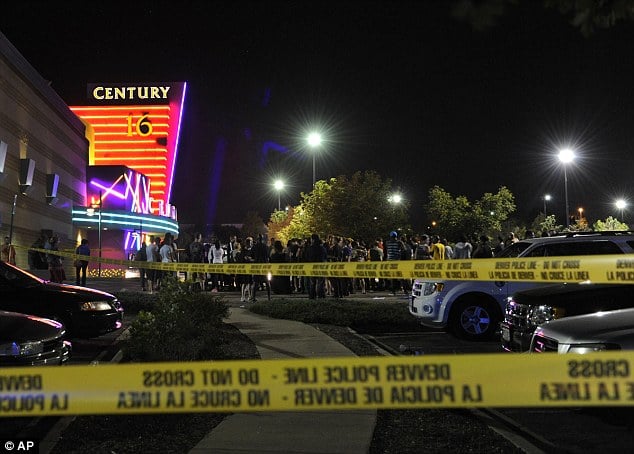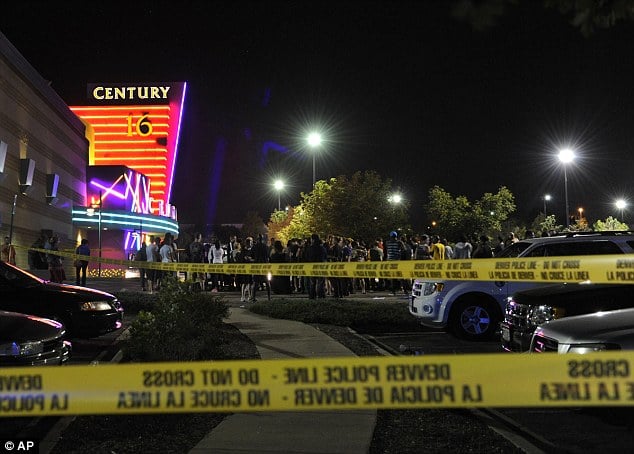 James Holmes said to have sent notebook to psychiatrist with plans before massacre. It sat unopened.
James Holmes snapped after failing key university exam. Couldn't live up to his brilliant father.
James Holmes may have intended NYC premiere as his initial target. Wanted to kill Dark Knight stars?
James Holmes said to have had dalliances with prostitutes.
Women are now going to twitter and saying how sexy James Holmes really is.
James Holmes spitting at guards. Forced to wear face mask. Is he literally going crazy?
James Holmes aka Joker villain had no social media presence. Said to be a loner.
Experts: James Holmes apartment was a waiting house bomb rigged with booby traps rarely seen out of war zones.
James Holmes is just a Joker and he's deemed mentally insane. But what if he were Black or a Muslim?
James Holmes Conspiracy: Does he have an accomplice? Can an unemployed and broke man afford guns and ammunition ?
James Holmes reached out to multitude of women on adult friend finder. Was rejected.
Dark Knight Rider pulls in $160.8 million weekend. But will sales stay buoyant?
James Holmes' mother now insists that reports that she knew her son was troubled were wrong says lawyer
James Holmes mugshot has finally arrived for your viewing pleasure.
British model Keeley Hazell shocked that James Holmes had a crush on her. Used her image on Adult Friend Finder.
Frazzled James Holmes make his first court appearance. Could face death penalty, may plead insanity defense.
Did a break up with a girlfriend from match.com send James Holmes over the edge? Left message: See you in prison.
James Holmes rejected from gun club cause his answering machine was too freaky.
James Holmes said to have lost touch with reality after becoming obsessed with video games. Wanted to be one of the characters.
First video of James Holmes surfaces. Wished to become a researcher and to make scientific discoveries.
Officials confirm James Holmes Adult friend finder sex profile is real. Open to swinging both ways.
James Holmes aka the Joker thinks he is in a movie. Spitting at prison guards.
James Holmes in solitary jail condition. Inmates said to want to kill him.
James Holmes was set to lecture on psychiatric and neuroscience disorders at University
James Holmes was high on prescription drugs hours before shooting.
James Holmes Adult Friend Finder sex profile thought to be authentic. Will you visit me in prison?
James Holmes the Joker killer was a loner and recluse. Left for death scene with techno song playing over and over
James Holmes referred to himself as the Joker. Fake reality vs real reality
Ann Curry returns to The Today show after Batman Dark Knight shooting.
James Holmes mother was not surprised her son was the shooter. Had a hunch!
Batman Dark Knight shooter James Holmes was a PHd drop out. Described as quiet and easy going.
Did 24 year old James Holmes have it in his mind that he was playing his own life or death action thriller when he stood directly in front of the screen and started shooting indiscriminately at the world whilst ensconced in his bullet proof vest and gas mask….?
The town of Aurora, Colorado has been shaken to its very roots this morning in the aftermath of yet another state tragedy at the hands of a gunman set on destruction and death.
The misery which began last night as movie patrons had come to see a midnight screening of the Dark Knight rises (yes the irony is beyond contemplation) has at present gone on to claim the lives of 12 individuals, some as young as 12 as well as injuring 50 people including three month old babies who are now said to be fighting for their lives. Even more bizarre is the death of aspiring female sportscaster, Jessica Ghawi who last month survived a mass shooting in Toronto, Canada.
According to witnesses the drama began when a man wearing dressed in black, wearing a gas mask and a bullet proof vest burst through the emergency exit at the front of the auditorium 30 minutes into the film screening. Once standing directly in front of the screen he then turned to the audience, released a gas canister and began indiscriminately firing at them. From there he began to begin climbing up the stairs and like the action hero he must have envisaged himself being he picked out more evil doers from the audience and tended to the task of executing them.
From there the man fled, who could say what he was thinking in his mind as he darted out the movie house? Had he accomplished his mandate? Was he now the action hero that he always himself to be? Was he glad he finally pulled it off and how long had he being mulling about pulling this off? Did he relish in the knowledge that in a few short hours he would be the action hero news hero he thought he could be the world over?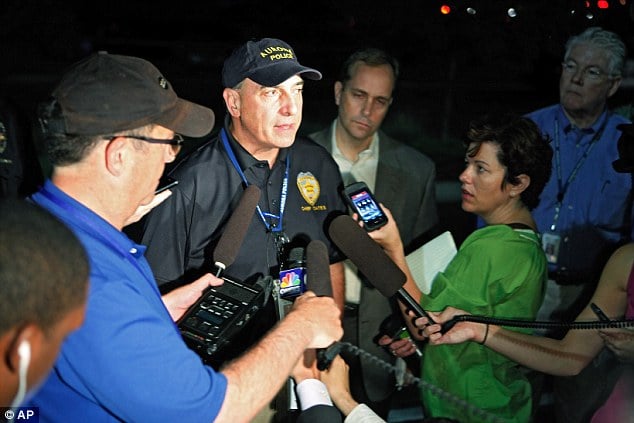 Once in the car park, the 24 year was easily apprehended by authorities without incident, even if suspect he was ready for a protracted fight as he was apprehended bearing 2 firearms, wearing a bullet proof vest and a gas mask and the fact that he had a flotilla of explosives stored at his home.
Amidst the horror spectacle of the attack, officials have come out to respond to last night's banalities. Said Police Commissioner Raymond Kelly:
'As a precaution against copycats and to raise the comfort levels among movie patrons in the wake of the horrendous shooting in Colorado, the New York City Police Department is providing coverage at theaters where the 'The Dark Knight Rises' is playing in the five boroughs.'
And then this statement from President Barack Obama:
'Michelle and I are shocked and saddened by the horrific and tragic shooting in Colorado,' 
'Federal and local law enforcement are still responding, and my Administration will do everything that we can to support the people of Aurora in this extraordinarily difficult time.
'We are committed to bringing whoever was responsible to justice, ensuring the safety of our people, and caring for those who have been wounded.
'As we do when confronted by moments of darkness and challenge, we must now come together as one American family.
'All of us must have the people of Aurora in our thoughts and prayers as they confront the loss of family, friends, and neighbors, and we must stand together with them in the challenging hours and days to come."
Last night's shooting now counts as the worst mass shooting in Colorado since the Columbine High School massacre on April 20, 1999 which saw fifteen dead, including the shooters. In that incident students Eric Harris, 18, and Dylan Klebold, 17, opened fire at the school in the Denver suburb of Littleton, about 15 miles west of Aurora, killing 12 classmates and a teacher and wounding 26 others before killing themselves in the school's library.
Ultimately one can only wonder what was going through the assailant's mind? Dressed like some action hero ready to star in his own action hero flick, his thriller was going to be more visceral, more life and death, straight to the point, a type of experience that no 'privileged' movie goer could ever forget. He was going to teach them a lesson, show them what real drama was, what real pain was, never mind his own pain. James Holmes was one way or another going to be the action hero anti hero that he always wanted to be and you sitting there questioning were about to pay the ultimate price….