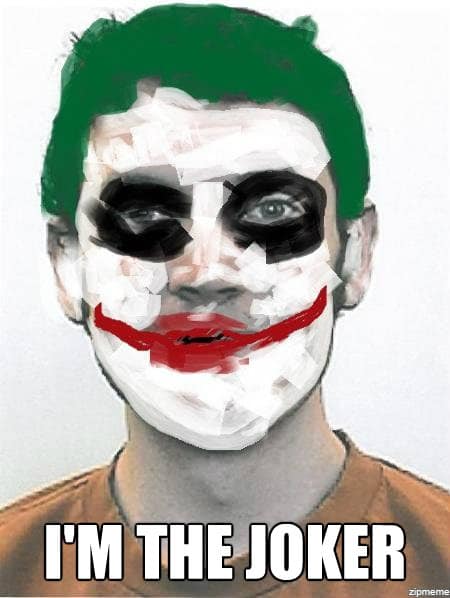 James Holmes said to have sent notebook to psychiatrist with plans before massacre. It sat unopened.
James Holmes snapped after failing key university exam. Couldn't live up to his brilliant father.
James Holmes may have intended NYC premiere as his initial target. Wanted to kill Dark Knight stars?
James Holmes said to have had dalliances with prostitutes.
Women are now going to twitter and saying how sexy James Holmes really is.
James Holmes spitting at guards. Forced to wear face mask. Is he literally going crazy
James Holmes aka Joker villain had no social media presence. Said to be a loner.
Experts: James Holmes apartment was a waiting house bomb rigged with booby traps rarely seen out of war zones.
James Holmes is just a Joker and he's deemed mentally insane. But what if he were Black or a Muslim?
James Holmes Conspiracy: Does he have an accomplice? Can an unemployed and broke man afford guns and ammunition ?
James Holmes reached out to multitude of women on adult friend finder. Was rejected.
Dark Knight Rider pulls in $160.8 million weekend. But will sales stay buoyant?
James Holmes' mother now insists that reports that she knew her son was troubled were wrong says lawyer
James Holmes mugshot has finally arrived for your viewing pleasure.
British model Keeley Hazell shocked that James Holmes had a crush on her. Used her image on Adult Friend Finder.
Frazzled James Holmes make his first court appearance. Could face death penalty, may plead insanity defense.
James Holmes was facing eviction prior to the Batman shooting. Days from being kicked out.
James Holmes to make his first court appearance today. Could be facing death penalty.
James Holmes lived in gangster rife apartment complex. Littered with crack dens.
James Holmes aka the Joker had a getaway plan that included booby traps.
Did a break up with a girlfriend from match.com send James Holmes over the edge? Left message: See you in prison.
James Holmes rejected from gun club cause his answering machine was too freaky.
First video of James Holmes surfaces. Wished to become a researcher and to make scientific discoveries.
A former classmate of James Holmes believes an obsession with video games led to James Holmes losing touch with reality.
Said the former University of Colorado classmate:
'James was obsessed with computer games and was always playing role-playing games. 
'I can't remember which one but it was something like World of Warcraft, one of those where you compete against people on the internet. 
'He did not have much of a life apart from that and doing his work. James seemed like he wanted to be in the game and be one of the characters.
'It seemed that being online was more important to him than real life. He must have lost his sense of reality, how else can you shoot dozens of people you don't know?'
Seemed like he wanted to be in the game and become one of the characters? Is this consistent with what has been realized to date with Holmes announcing to arresting officers that he was the Joker and when he chose to act out a diabolical mass shooting whilst a film portraying the very same plot line was physically taking place a few feet away as Holmes pummelled bullet after bullet into his unsuspecting victims?
Had James Holmes taken on the role of the anti villain to fight the hollowness and weakness of society? Had he intended like the Joker to embrace the vacuousness of society, to combat it and by doing so exonerate us and himself? Was this all part of the illusion or make believe world of one young man as he sat and absorbed himself in endless video games?