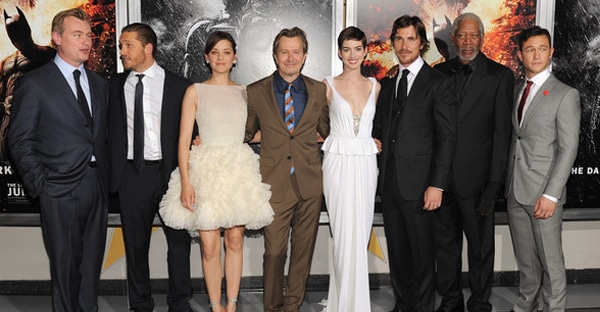 James Holmes is being evicted. Explosives and murders violated lease.
James Holmes trial. Lawyers say he is mentally ill. Will he avoid the death penalty?
It's been postulated that James Holmes may have set out to impart destruction not at the local town's Dark Knight Rises premiere but that of NYC because it would have been in keeping with the grand statement he sought to make about the decay of society and to put his acts on a world stage outing that so few could possibly have envisaged.
What though may have tempered his decision to stay local was the fear that he risked being caught with a car load of weaponry.
The National Enquirer reported that actors Christian Bale, Morgan Freeman, Anne Hathaway and Gary Oldman were Holmes' original targets, with their deaths being in the very city the movie was filmed in, according to an initial police investigation.
Said a source: source said: 'He wanted to kill Bale who plays Batman, along with the rest of the cast and God knows how many innocent people.
'In his sick fantasy he wanted to strike a blow on Gotham City which represents New York City in the movie. It was the fantasy of this deranged monster.'
Of course it would have been no coincident that NYC the center of the 9-11 attacks drew a type of perverse nostalgia for mortal danger and the ultimate high of kitsch debasement. Then again perhaps the comment from one reader below comes quite close in exploring what may have been in James Holmes mind when he initially contemplated his attack in NYC:
I still don't think the films and their content triggered this, I think he chose this premiere because, since pop culture is a major part of people's lives and this is the pop culture event of the year, choosing it as a platform for his massacre would be a much surer way of getting a huge reaction than, say, shooting up a school or a mall. Because sadly those things happen often enough that people expect them to happen, but no one expected a movie theater shooting in the middle of the night at the first screening of a film that already has been getting extensive attention from the media and the public as it was. And that alone is why the huge deal. Not because of the film, but because no one has ever done it before. If he thought shooting up a sports game or a TV station or a screening of Madagascar would get the biggest reaction then that's what would have happened instead. It's not about the movie itself, it's about what would be the most shocking and unexpected.
James Holmes said to have had dalliances with prostitutes. 'He was really nice….'
Women are now going to twitter and saying how sexy James Holmes really is.
James Holmes spitting at guards. Forced to wear face mask. Is he literally going crazy?
James Holmes aka Joker villain had no social media presence. Said to be a loner.
Experts: James Holmes apartment was a waiting house bomb rigged with booby traps rarely seen out of war zones.
James Holmes is just a Joker and he's deemed mentally insane. But what if he were Black or a Muslim?
James Holmes Conspiracy: Does he have an accomplice? Can an unemployed and broke man afford guns and ammunition ?
James Holmes reached out to multitude of women on adult friend finder. Was rejected.
Dark Knight Rider pulls in $160.8 million weekend. But will sales stay buoyant?
James Holmes' mother now insists that reports that she knew her son was troubled were wrong says lawyer
James Holmes mugshot has finally arrived for your viewing pleasure.
British model Keeley Hazell shocked that James Holmes had a crush on her. Used her image on Adult Friend Finder.
Frazzled James Holmes make his first court appearance. Could face death penalty, may plead insanity defense.
James Holmes was facing eviction prior to the Batman shooting. Days from being kicked out.
James Holmes to make his first court appearance today. Could be facing death penalty.
James Holmes lived in gangster rife apartment complex. Littered with crack dens.
Did a break up with a girlfriend from match.com send James Holmes over the edge? Left message: See you in prison.
James Holmes rejected from gun club cause his answering machine was too freaky.
James Holmes said to have lost touch with reality after becoming obsessed with video games. Wanted to be one of the characters.
First video of James Holmes surfaces. Wished to become a researcher and to make scientific discoveries.
Officials confirm James Holmes Adult friend finder sex profile is real. Open to swinging both ways.
James Holmes aka the Joker thinks he is in a movie. Spitting at prison guards.
James Holmes was high on prescription drugs hours before shooting.
James Holmes the Joker killer was a loner and recluse. Left for death scene with techno song playing over and over.
James Holmes said he was the Joker. Fake reality vs real reality
Ann Curry returns to The Today show after Batman Dark Knight shooting.
James Holmes mother was not surprised her son was the shooter. Had a hunch!
Batman Dark Knight shooter James Holmes was a PHd drop out. Described as quiet and easy going.
Dark Knight massacre as 12 dead, 50 injured as maniac opens point blank fire at Batman movie premiere