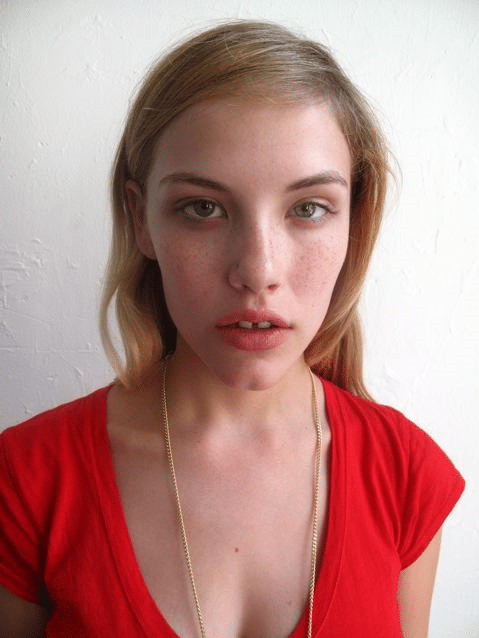 Ashley Smith has been making a steady name for herself in high fashion editorial spreads and big brand name campaigns. The reason why may not be so immediately obvious, but the more you look at this hawt bixch smile, it all becomes apparent. Which is frankly the way I like it- conventional fashion houses and media outlets can go and fxck themselves cause it's girls like Ashley that really make so many of us gush.
Interestingly in a 2010 interview with fashionista the model goes on to mention that the gaps between her teeth did cause her some unease as a youth, and she had even envisioned fixing it but never had all the money all at once which led to her being plucked out one day at a music festival where she now uses her wonderful eccentric smile to make one assumes a bit of cash and then some.
A true indie favorite and I am personally glad that the bigger media outlets are stepping up and using this un conventional beauty.
Any way here's a snippet of the latest spread for Ashley via fashioonerogue, which throws up in the air what counts as conventional beauty in the strange world of fashion.
Recent career highlights since being discovered in 2009 include:
Dec 2010
Appears in editorials for Italian Vogue, Russian Vogue, Allure, and Numero
2010

Appears in i-D editorial, photographed by Paola Kudacki
2011

Becomes the face of T by Alexander Wang
2011

Featured on the cover of French Revue de Modes, photographed by Theirry Le Goues.
FEB 2011

Closes for the fall Vivienne Westwood show in Paris
MAY 2011

Appears in Italian Vogue editorial, photographed by Miles Aldridge.
2011

Signs contract with Diesel Loverdose fragrance
DEC 2011

Appears in Elle editorial, photographed by KT Auleta
2012

Models for the Diesel spring ad campaign