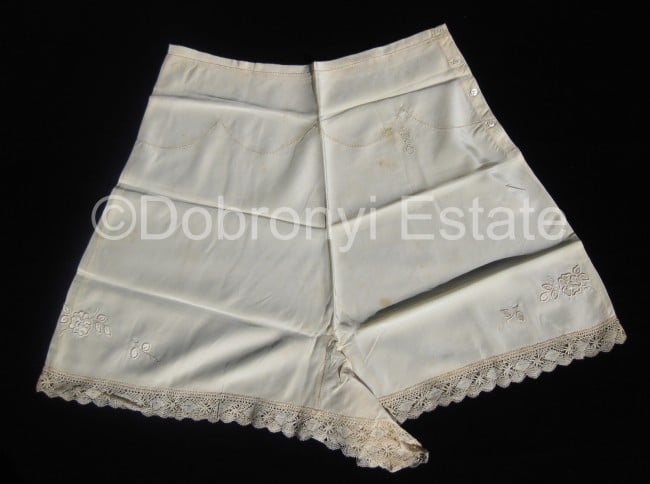 God save the Queen…
Ever wanted to know what Queen Elizabeth's undergarments look like? Wanted to actually own a pair for yourself? Well fear not as your chance has finally arrived via the estate of Baron Joseph 'Sepy' de Bicske Dobronyi which has placed the knickers on ebay amongst other things.
Offers styleite: The baron apparently came into possession of the illustrious underthings after the Queen left them on a private plane in 1968 while traveling to Chile. According to the listing, Sepy was an "aristocrat, sculptor, photographer, royal jewelry designer, art collector, world traveler, sportsman and bon vivant." They fail to mention the "creep" bit.
Left them on the plane? A creep? Perhaps the baron was just as intrigued as the usual punter when they get their hands on some rather unusual stitches. Then again the Queen's knickers for a lack of a better word do come off a smidgen stodgy right (could they have instead belonged to the Queen's mother?)? Surely the Queen must have a couple of g-strings hiding around the closet for when the mood sets in?
Richly embroidered silk undergarment with a monogram of the royal crown with the initial script "E" underneath on the top left, with a designed stitched going across the garment above it. On each side there are two flowers on a stem with leaves and beside it a stem with two leaves. The garment is lined with a beautiful and delicate crocheted lace hem. There are four small pearl-like buttons on the left side.
Can you guess what the Queen herself must be making of all of this?
Surely you too must be tempted to go online right now and bid for the Queen's knickers?