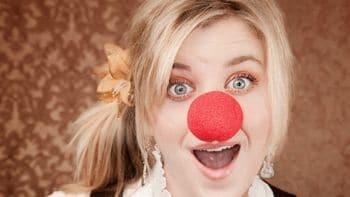 Is it worth it to talk smut to get your man?
A new study out of the BusinessInsider reports that everyone likes to date someone with a sense of humor. But when it comes to guys, they'd much prefer to date a woman who can hang with the boys.
businessinsider: A recent eHarmony study found that a sense of humor is the number one "Must Have" that both men and women are looking for in a partner.
Now, using a sample of 519,835 women and 331,138 men from the online dating site's 2010 member base, researchers at eHarmony have uncovered what styles of humor are most attractive/popular to the opposite sex. The full results of the study are displayed in a neat infographic below.
Here are the key takeaways from the study:
Guys enjoy a sarcastic women
Women tend to like guys with a dry sense of humor
Men prefer women who use "guy humor" – sarcastic, juvenile, geeky or raw — whereas women prefer guys who use "gal humor" – sarcastic, dry or ironic.
Ladies shouldn't you be appropriating yourselves to get your man too? One thing that's telling for you men out there- the more sarcastic you are, the more women will pay attention to you. Go figure…