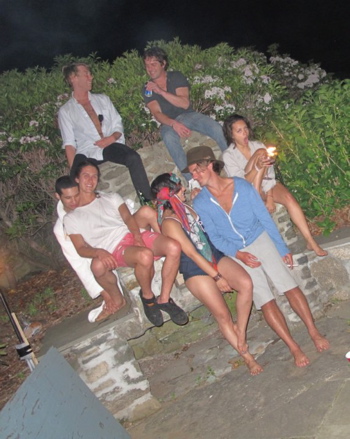 The faux set are now preening in New England.
According to Guest of a Guest there is a new part of town that's suddenly making head ways. It's called your father's guest house in greater Connecticut.
With guests that included Paul Johnson Calderon, his bow tie, John Munson and Peter Smith (can we assume the one with the money bags?)and other similar chicly unemployed, under employed and burgeioning part time models, actors, publicists and of course editors the newest enterourage assembled under perfect frilly umbrellas and their favorite knick knacks.
What type of knick knacks are you wondering, well the type that will set you back $12 000 for the pleasure of leaving the front of your pants bulging and permanently stained by all the frothy stuff one is inclined to shower each other with. Confused just ask Paul when he finally gets round to waking up, he'll try to tell you as much about it as he can remember.
Hell, why stay in NYC this summer or bother with the Hamptons when you can score your daddy's guest house. Just be polite to clean the mess and of course the evidence.
Source; Guest of a Guest.
What tender loving things did Devorah Rose and Paul Johnson Calderon say to each other at last night's Gen Art premiere?